Facebook Timeline Movie Maker makes a movie out of your content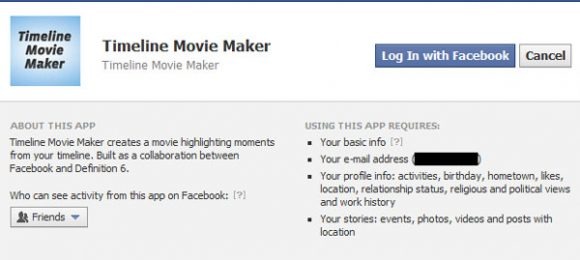 I think most of us would agree that the new Facebook Timeline isn't something we want on our profiles. I don't like the way timeline profiles look, and I'm sure I am not alone. Facebook has now launched a new app that will take all the content you put on your Timeline profile, and turn that content into a little movie. That sounds interesting, and some people will probably appreciate the new app.
Facebook says the new Timeline Movie Maker creates a movie highlighting special moments from your Timeline and the app is built in cooperation with Facebook and Definition 6. This is clearly designed to lure people to use the new Timeline, even though Timeline is going to be mandatory soon and users won't have a choice. The app appears to be easy-to-use, you give it permission to access your basic information from your profile and the movie it constructs lasts a minute.
You don't have to do anything, and apparently you don't pick the photos the app does it for you. The app checks your content, identifies the most engaging and relevant life moments, then builds a chronological story for your movie, and renders it up in a few minutes. You get to pick background music from five tracks, and then the movie is posted to your site and can be shared with friends. Does the Timeline Movie Maker make you feel better about being forced to use Timeline, or is this just something else that you don't care about?
[via ZDNet]