Facebook testing paid highlighted posts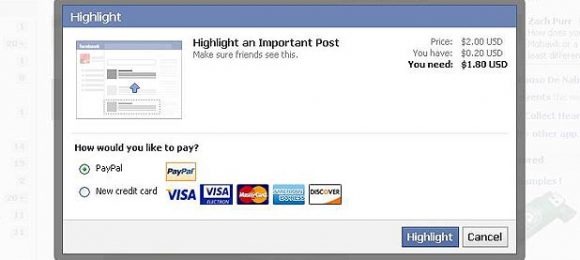 Facebook may soon be worth A Lot Of Money, but what's the plan to monetize that doesn't involve advertisers? Turns out you may have to pay Facebook a small amount to promote highlighted posts. Facebook is reportedly testing the feature, which would charge users $2 in order to highlight important posts to gain more visibility and clicks.
One user accidentally stumbled across the payment page and at first thought it was a scam, but a spokesperson for Facebook has confirmed that it is a new feature that is currently being tested. "We're constantly testing new features across the site. This particular test is simply to gauge people's interest in this method of sharing with their friends."
The spokesperson went on to say that Facebook is testing different price points for the feature, and may not charge at all. Users will see different amounts across the trial, which would see them adding to their balance via PayPal or credit card in order to pay for highlighted posts. We can't imagine typical users getting much out of the feature, especially if it is paid, but brands and companies would probably see value in the idea.
It comes ahead of Facebook's IPO, rumored to go live this week. While many are hoping to pick up shares in Facebook, skeptics are wondering if the company is really worth the $80-90 billion it will be valued at. Insiders have also claimed that there's more demand than shares on offer: good news for Facebook, but potentially bad for those looking to get in from the start.
[via Stuff NZ]