Facebook starts adding restaurant critiques to newsfeed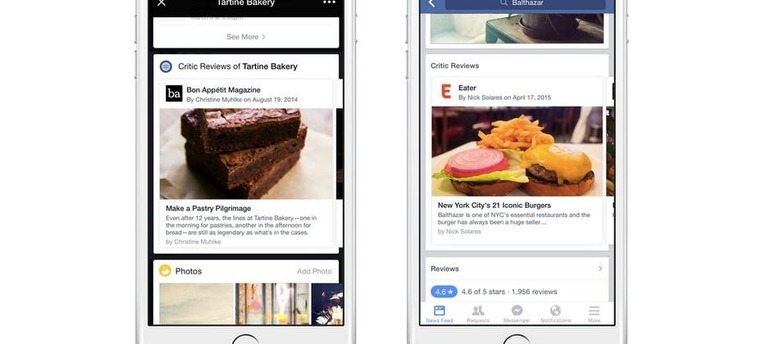 Facebook is constantly tweaking things, and if you thought the changes to your newsfeed would die down for a while, think again. The social network is back with yet another tweak, this time testing critics' reviews of restaurants that the Facebook user may be interested in. It works a little like this: visit the page of a particular restaurant, and you may see links to critics' reviews of that same place, augmenting your own opinion (if you've tried the place yet) and that of your more discerning friends.
This is only in its initial stages, and as such is just rolling out to certain (and mostly unspecified) restaurant pages, and only in the United States. Kicking things off is a partnership between the social network and Conde Nast Traveler, New York Magazine, Eater, Bon Appetit, and the San Francisco Chronicle.
How restaurants will react to such a new test is yet to be see. Facebook has said that it'll include negative reviews from its partner sources if such a one is presented, and so a restaurant might think twice before continuing to use Facebook as an advertising platform if negative reviews begin popping up to visitors. That's all still yet to be seen, however.
Said Facebook in a statement to The Verge, "Since reviews are such an important part of helping people make informed decisions about what to do locally, we're excited to be incorporating a new way for people to use Facebook to find the best real-world experiences." The exact restaurants that are swept up in this pilot aren't detailed, though the social network did reveal that there are thousands of them.
SOURCE: The Verge