Facebook rolls out a dedicated game streaming app (that you can't use)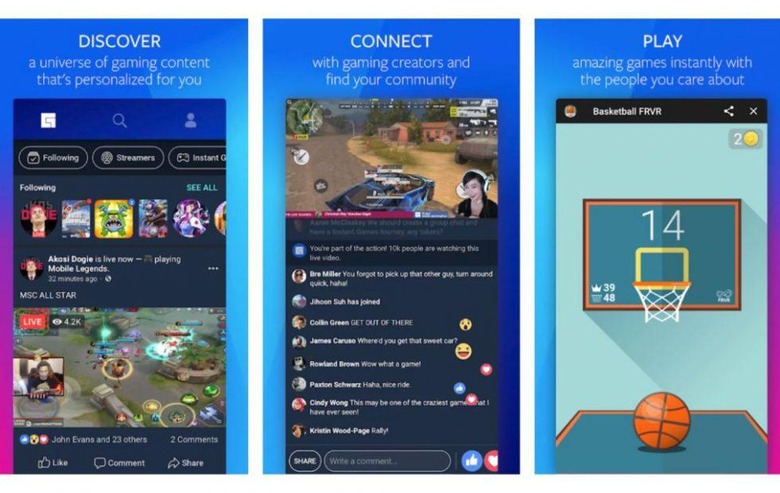 It's not exactly a secret that Facebook has been trying to unseat sites like YouTube and Twitch when it comes to streaming video – particularly game streaming. Over the summer, a new portal called Fb.gg was launched, organizing Facebook's game streaming service in one place. Of course, the success of YouTube and Twitch comes in part because of their mobile presence, and Facebook has wasted little time in coming up with an answer to that as well.
Facebook has started testing a new Fb.gg app on Android. If you use something like Twitch or YouTube Gaming's (soon-to-be-retired) mobile app, then you likely already know what to expect. This is where you'll be able to find gaming streams that are live on Facebook and interact with the people making them. Facebook things one step further, however, by letting you play Messenger's Instant Games within the app as well.
Facebook's new app was first discovered by Sensor Tower, but most of us probably aren't going to get the chance to try it for a while. Facebook told TechCrunch that this beta test is currently only available to some users in the Philippines. The apps that's launching there only has a limited feature set for now, and Facebook says that it'll wait on feedback from the larger gaming community before deciding if it wants to expand availability.
Given the fact that Facebook has been making a hard play for whatever portion of the Twitch and YouTube audiences it can get, it's probably safe to assume that the Fb.gg app won't live and die entirely in the Philippines. It might take a while for it to spread to other regions as a full release, but it would certainly benefit Facebook to launch streaming-centric app if it wants to actually give Twitch and YouTube a run for their money.
Make no mistake, Facebook is arriving to party a little late here, but it does seem to be hitting the ground running with Fb.gg. We'll keep an ear to the ground for more information on the Fb.gg mobile app, so stay tuned.