Facebook on why Safety Check activated for Paris, but not others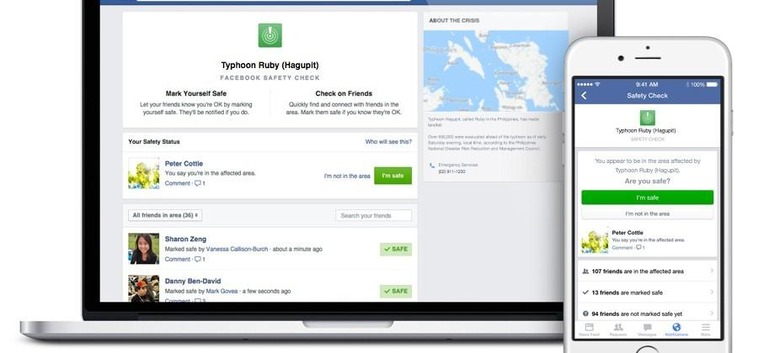 In 2014, Facebook introduced a tool called Safety Check that makes it easier for those within a disaster region to notify others about their safety status. Safety Check was spawned from lessons Facebook learned during 2011's tragic tsunami in Japan, and it has continued to exist since then, but has been limited to natural disaster situations...that is, until the recent and tragic attacks that took place in Paris. Immediately after the attacks, Facebook made the quick decision to activate Safety Check for those in France, as well, generating ample controversy in doing so.
Facebook has been criticized for enabling Safety Check for the terrorist attacks in Paris, with critics suggesting it demonstrates a Western bias in the company. If that weren't the case, according to critics, Safety Check would have been enabled for the attack in Beirut, Lebanon or any other number of terrorist attacks that happened before the most recent ones in both Beirut and Paris.
In light of the criticism, Facebook posted a lengthy response, explaining why Safety Check was expanded when it was, and why that expansion didn't take place sooner. Joining in the conversation was Facebook's Mark Zuckerberg, who said in a post:
Many people have rightfully asked why we turned on Safety Check for Paris but not for bombings in Beirut and other places. Until yesterday, our policy was only to activate Safety Check for natural disasters. We just changed this and now plan to activate Safety Check for more human disasters going forward as well ... Thank you to everyone who has reached out with questions and concerns about this. You are right that there are many other important conflicts in the world. We care about all people equally, and we will work hard to help people suffering in as many of these situations as we can.
A lengthier status was posted by Facebook Safety, which discussed the issue and the thought process behind the decision. Safety Check has only been activated a "handful of times," says Facebook, and only for natural disasters.
"In the case of natural disasters, we apply a set of criteria that includes the scope, scale and impact. During an ongoing crisis, like war or epidemic, Safety Check in its current form is not that useful for people: because there isn't a clear start or end point and, unfortunately, it's impossible to know when someone is truly "safe.""
Ultimately, says Facebook:
We chose to activate Safety Check in Paris because we observed a lot of activity on Facebook as the events were unfolding. In the middle of a complex, uncertain situation affecting many people, Facebook became a place where people were sharing information and looking to understand the condition of their loved ones. We talked with our employees on the ground, who felt that there was still a need that we could fill. So we made the decision to try something we've never done before: activating Safety Check for something other than a natural disaster. There has to be a first time for trying something new, even in complex and sensitive times, and for us that was Paris.
This was a precedent setting action, according to Facebook, which says the activation will change the company's policy about future instances in which Safety Check is used.
SOURCE: Facebook