Facebook Messenger video calling gets a big new feature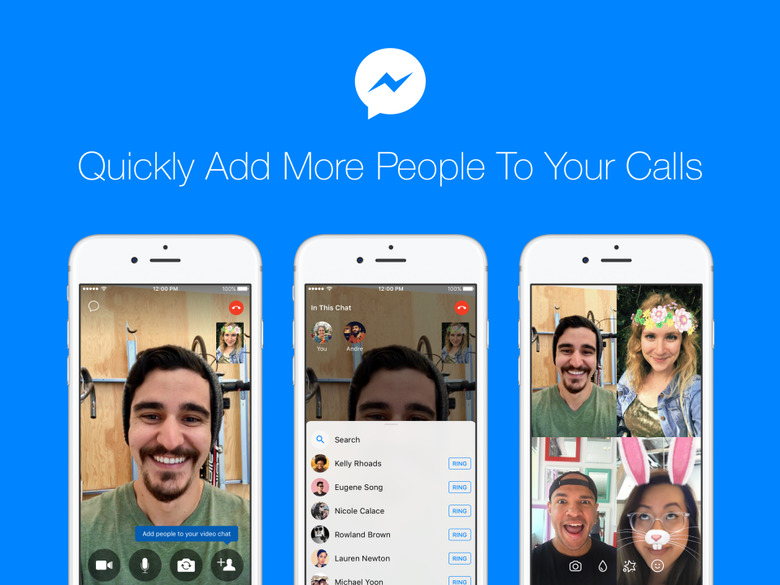 Facebook has spent the last few years trying to turn Messenger into the communication platform. Many different features have been added to Messenger over the years, but one that seems crucial – the ability to add people to your in-progress video calls – has been missing since video calling launched back in 2015. That all changes today.
Facebook has announced that you can now add people to existing video calls, which is something many users will likely find handy. Previously, the only way to add more people to a video call was to hang up your in-progress call, create a new group chat with everyone you wanted to involve, and then begin the video call anew. It was a headache, to say the least.
Now, all you need to is tap the screen while you're chatting, select the "add person" icon that pops up, and then select the person you'd like to add to your call. Once the call is finished, you'll maintain a text group chat with the other participants in your Messenger inbox. The process as a whole seems fairly straightforward, and that ease of use is something Facebook has promised to focus on throughout 2018.
It kind of goes without saying that Messenger feels a little bloated these days. Back in January, Facebook said that it would attempt to trim the fat when it comes to Messenger features that haven't caught on with users as we move through the year. We haven't seen a whole lot of movement on that front, but then again, it's only been a month since this new initiative was announced.
In any case, cutting back on some unnecessary features while improving features that see a lot of use will be key to continuing Messenger dominance in the world of communication apps. This new feature is live now in the iOS and Android versions of the app, so if you make frequent video calls through Messenger, go ahead and give it a spin.