Facebook Messenger now lets you poll your friends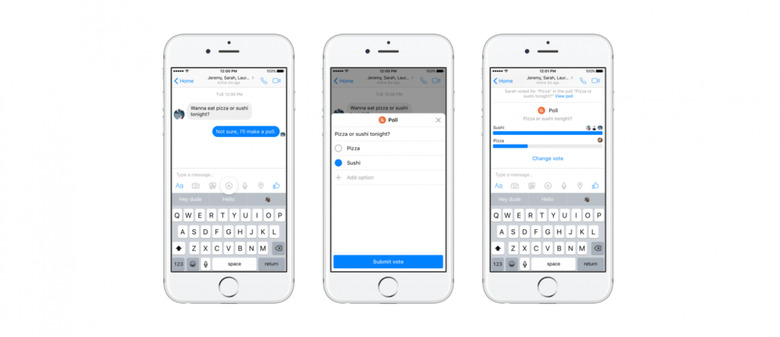 Facebook Messenger is getting a new update today, tossing a pair of interesting new features into the mix. First and foremost is the addition of polls, which will let groups make decisions though the age-old concept of majority rule. Payments are also being refined in this update, and can now pick out phrases that would normally be associated with money to summon a "send money" button within the conversation itself.
Users who have received these new features in an early roll out will now notice a "create poll" button on their Messenger panel. Hit that button and you'll be prompted to ask a question and offer up a selection of different answers. Once that's done, your poll will be posted in the conversation and open for other members of the discussion to answer.
Payments aren't getting a large overhaul by any means, and in fact, this update seems to exist as a way of reminding you that you can indeed send money through Messenger. Now when you type a message like "you owe me $10" or "I'll send you $15," Facebook's Chat Assist feature will kick in to add a "send money" button underneath the message when it's sent.
Not all users will see these new Messenger features right away, but they're currently in the process of rolling out. If you don't see them just yet, confirm that you've updated to the latest version of Messenger. While they're not the most groundbreaking features, they'll likely prove to be handy to have around, especially polls. Considering the rate at which Facebook has been rolling out new features for Messenger, we'll almost certainly hear of more soon, so stay tuned.