Facebook Messenger Day lifts another Snapchat feature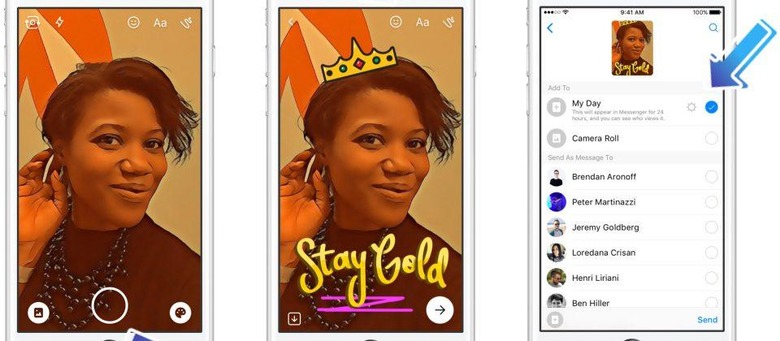 Facebook seems to be taking quite a few pages out of Snapchat's book lately, so it shouldn't be much of a surprise that Messenger's newest feature seems awfully familiar. Dubbed Messenger Day, this new feature allows you to take photos and videos you share within Messenger discussions and add them to collection that your friends can view. In other words, this is Facebook's version of Snapchat's Stories, right down to the 24 hour time limit.
Messenger Day has been in closed testing since Facebook rolled out Messenger's new camera, but today it's rolling out globally on Android and iOS. Adding photos and videos to your day is fairly simple, though perhaps not quite as easy as doing to same thing in Snapchat.
To get started, you need only open Messenger and then tap the camera button. It shouldn't be hard to find, as the camera icon is highlighted with a sun to celebrate the launch of Messenger Day. This will open up the full screen camera, which you can then use to (surprise!) take a picture or shoot a video.
Once that's done, you can add effects to what you've captured by tapping the smiley face button for art and the "Aa" icon for text. Then comes the final step: tap the arrow button to prepare to send your image or video, where you can choose to post it directly to your Day, save it to your album, or share it in a conversation.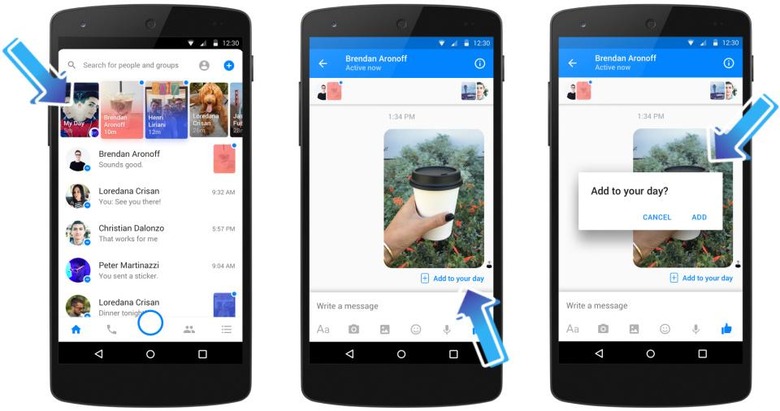 By default, all of your Messenger contacts will be able to see your Day, though like Facebook proper, you can edit this setting to prevent certain people from viewing it. You'll also be able to add photos and videos you share in your Messenger conversations to your Day – when you send it, you'll see the option pop up beneath your photo or video.
So, while it's a fairly cool feature, it's also very clearly a play to get people to stop using Snapchat so much. This isn't the first time a Facebook property has borrowed ideas from Snapchat, as Instagram launched its own version of Stories a few months back. What do you think? Can you see yourself using Messenger more now that Days are a thing, or will you stick to Snapchat Stories? Let us know in the comments section below!
SOURCE: Facebook