Facebook Marketplace takes aim at Craigslist for peer-to-peer selling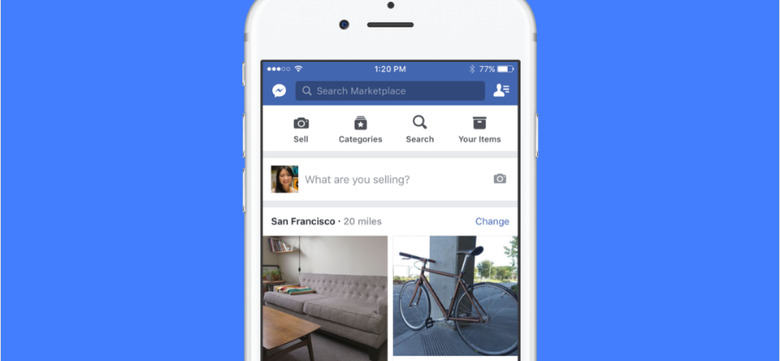 Citing the fact that 450 million Facebook users are participating in buy and sell groups each month, Facebook has decided to roll out a new feature called Marketplace. This new feature seems to be taking aim at Craigslist, offering location-based discovery instead of a general online storefront where people can sell to anyone anywhere in the world.
Of course, if you want to buy an item that's on the other side of the country, you're free to use Marketplace to do so, but when you first tap the shop tab which now appears at the bottom of the Facebook app, you're greeted by a bunch of offers from people who are in your general area. If you're not just browsing and instead looking for something specific, you can further refine your hunt by using the search bar at the top of the page.
Those search results can be filtered by location or price, and Facebook has also included a selection of categories that can further narrow down search queries. If you find an item that looks like something you'd like to own, the expanded Marketplace listing will provide you with a description of the item itself, the profile picture of the seller, and their location. From there, you can message the seller to hammer out the nitty gritty details.
Selling through Facebook seems fairly straightforward, with the company posting step-by-step instructions along with this announcement. First, you'll want to take an image of the product you want to sell or upload an existing one from your gallery. After that, you enter a name, add a description, and set a price. Once that's done, you only need to define a category and your location, then hit the post button. Sellers also have the ability to post their new listing to a buying and selling group as it goes live.
Facebook also has some rudimentary seller and buyer tools in place through the Marketplace's "Your Items" section – it's here that users can see the items they've saved, the items they've listed, and all of the messages they've sent and received through Marketplace.
Facebook notes that Marketplace doesn't facilitate payments or the delivery of items. It wouldn't be shocking to see that change in the future, as it isn't hard to imagine Facebook implementing Messenger's payments feature for Marketplace, allowing it to skim a little of the purchase price off the top. Marketplace will be launching in the US, UK, Australia, and New Zealand over the next few days on both iOS and Android, with more counties being added in the coming months.
SOURCE: Facebook