Facebook lottery winning fraudster found out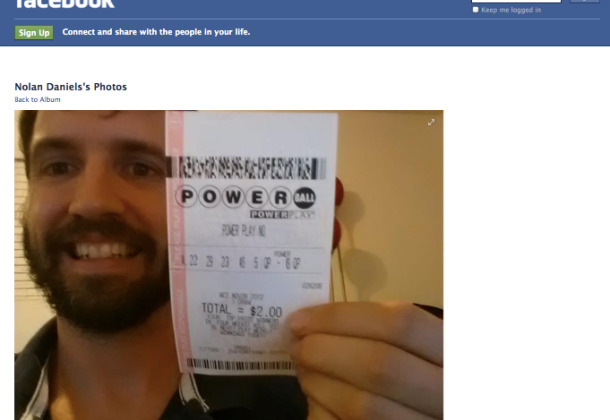 You know the old adage, if it sounds too good to be true it probably is. I'm sure anyone with a Facebook account has several people who have shared the photograph of a smiling, scraggly bearded Powerball winner over the last few days named Nolan Daniels. I've seen several people on my friends list share the photo with the caption "share this and I'll give $1 million to some random person."
That photograph was shared by over 2 million people and Nolan Daniels as it turns out is a faker. The man's full name is Nolan Ryan Daniels, and he is a software engineer and a co-owner of a company called N2 Technologies from Mesa, Arizona. The company provides software for firms in the medical industry.
Daniels' brother Derek reportedly confirmed his identity to the Savannah Morning News. The lottery winning fraudster's brother said "I think he craves the love from people." It's unclear if the man's brother was being humorous or has a problem with what Daniels did on Facebook.
So far, Nolan Daniels hasn't offered any of his own insights as to why he started his ruse. Perhaps in the beginning it was simply a joke on friends that soon expanded massively beyond what he expected. The moral of the story is don't believe everything you read on Facebook.
[via CNET]