Facebook goes big with mobile update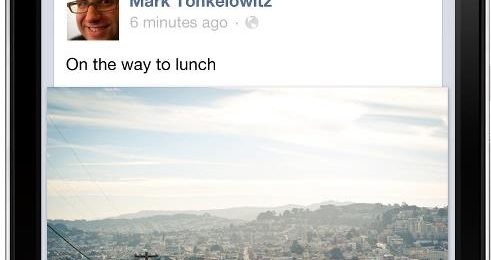 There's a whole new Facebook in town this week with their team of intrepid developers delivering one significant change to their mobile view: larger images. This doesn't mean that your display is getting any bigger, of course, so what you've got here instead is a layout for the mobile version of Facebook which makes better use of the images you see in your news feed on the daily. Last week Mark Zuckerberg let the world know in a pre-IPO talk with investors that the mobile world is the company's top priority – their biggest, if we can be so bold at this point.
This upgrade comes via Facebook's own mobile Facebook update page with a set of images of the upcoming slight upgrade to their mobile browser version of the Facebook ecosystem. We'll very likely see this upgrade coming to apps of all kinds in the very near future as well. This upgrade will affect mobile users only at this moment, with the desktop browser version of the social network keeping with its same interface for the moment.
This upgrade comes to http://m.facebook.com/ first, with Android and iOS upgrades coming up soon. Let us know if you're feeling fabulous about this upgrade to the image display in the world's most widely used social network – debatable! Or if you're loving the old design better – who needs big photos anyway?
[via Facebook]