Facebook Gifts gains more partners, hundreds of gift options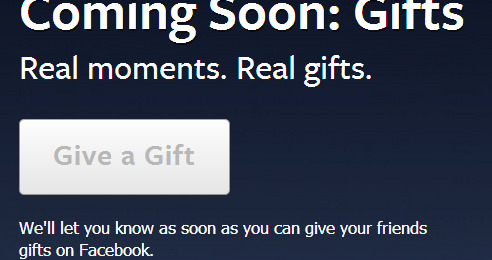 Facebook has announced the addition of hundreds of new gifts users can buy and send to friends on Facebook. The new items are from a variety of retailers who have partnered with the social network, including babyGap and Brookstone. Now the next time a Facebook notification pops up letting you know it's someone's birthday, you can send them a gift ASAP from the comfort of your computer.
Retail partners include Fab, Dean & Deluca, L'Occitane, Lindt, ProFlowers, Random House Inc., NARS Cosmetics, Brookstone, and babyGap. In addition, there are also a variety of gift options for the multi-media lover on your friends list. Facebook users can purchase and send subscriptions to online services, including Pandora and Hulu Plus.
According to the Facebook Gifts page, users can simply select a gift, add a message, and send it off after paying for it. The receiving party will get a notification alerting them to the gift. After getting the alert, the friend can then enter their shipping information to receive it, as well as changing some user-selection options, such as flavor or size, depending on the item.
The method seems pretty straight forward and easy for both parties to use. The way the shipping information is setup allows Facebook users to avoid the hassle of trying to get a current shipping address, and helps the person on the receiving end maintain their privacy. For now, the Facebook.com/about/gifts page features a "Coming Soon" tag, as well as an introduction video.
[via Facebook]