Facebook buys WhatsApp for $19bn, NASA's budget for 2014: $17bn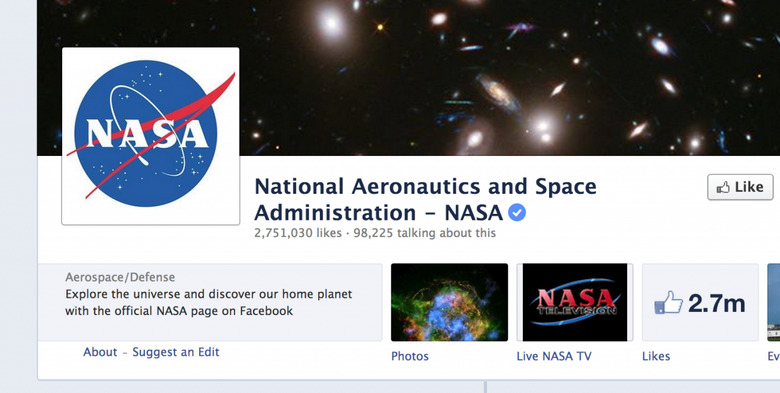 This afternoon Facebook announced that they'd be acquiring the whole of the app ecosystem called WhatsApp for a cool $19 billion USD. This purchase price includes $4 billion in cash, Facebook shares worth $12 billion, and a cool $3 billion in restricted stock units (RSUs) that will go to both WhatsApp's founders and employees – these stock units will vest over four years once this deal is closed. Meanwhile YouTube personality Marques Brownlee made note of a very interesting realization soon after the Facebook announcement was made – NASA's entire budget for 2014 is less than $18 billion.
According to Space Policy Online, NASA will be bringing in approximately $17.6 billion USD to spend throughout the year 2014. While it's important to note that NASA only requested approximately $17.7 billion in funds from the House, Senate, and President of the United States, the amounts are too interesting not to make note of.
NASA will be spending just over $4 billion on "exploration", a bit over $5 million on "science", and a bit less than $4 billion on "space operations." Meanwhile Facebook's purchase money will be doing the following.
WhatsApp capital stock and options to purchase WhatsApp capital stock will be cancelled in exchange for $4 billion in cash as well as 183,865,778 shares of Facebook Class A common stock. This stock is worth around $12 billion right about now. Mark Zuckerberg had the following to say about the exchange before a Q and A session today:
"WhatsApp is on a path to connect 1 billion people. The services that reach that milestone are all incredibly valuable.

I've known Jan for a long time and I'm excited to partner with him and his team to make the world more open and connected." – Mark Zuckerberg, Facebook founder and CEO
Jan Koum is the co-founder of WhatsApp and CEO of the company. Koum will join Facebook's Board of Directors, while WhatsApp's "core messaging product" as well as Facebook's "existing Messenger app" will continue "to operate as standalone applications.
"Here's what will change for you, our users: nothing.

WhatsApp will remain autonomous and operate independently. You can continue to enjoy the service for a nominal fee." – Jan Koum, Founder and CEO of WhatsApp
Not to worry, WhatsApp users – you'll have the same experience as you had yesterday that you will tomorrow. Changes will come slow – or so we're told.
"In the event of termination of the Merger Agreement under certain circumstances principally related to a failure to obtain required regulatory approvals, the Merger Agreement provides for Facebook to pay WhatsApp a fee of $1 billion in cash and to issue to WhatsApp a number of shares of Facebook's Class A common stock equal to $1 billion based on the average closing price of the ten trading days preceding such termination date." – Facebook release
Above you'll also find details pertaining to Facebook and WhatsApp's deal which shows what'll happen if they fail to make an agreement. We'll be following this whole deal to the end – including changes to either app ecosystem as they appear.