Facebook breaks IPO volume record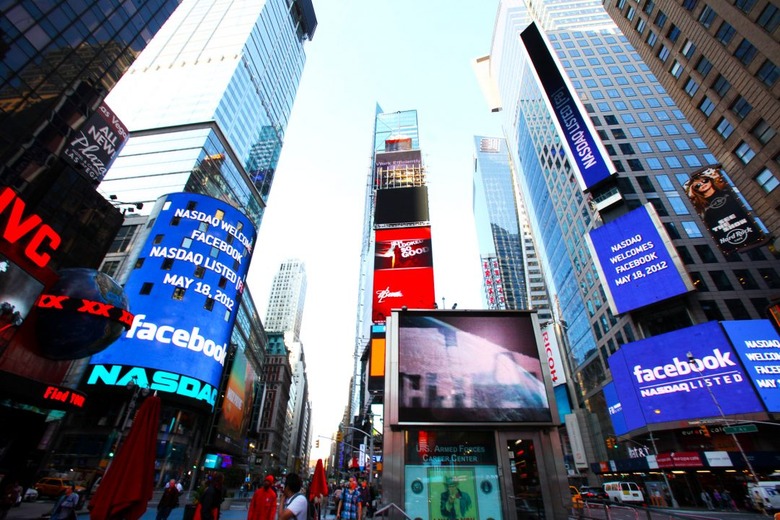 In a day that's had Facebook making history in more ways than one, the social network has broken the first day IPO Trading Volume record with more than 460 million shares traded throughout the day. This record beats the previous top spot holder General Motors which had 458 million shares traded its first day going public in 2010. Trading will end at 4 PM EDT at which time we'll know whether or not Facebook has broken any other records for an IPO – it currently also in contention with Visa for largest ever about of cash raised from and IPO with Visa's 2008 number sitting at $17.9 billion USD while Facebook runs around $16 billion USD throughout the day.
This IPO is having several effects on those investment groups that got in on the business early, with such groups as Elevation Partners – associated with U2's Bono holding a 2.3 percent stake in the company and raking in what may be $1.5 billion USD by the end of the day according to
By
of Mashable's count, Mark Zuckerberg has jumped between the number 29th and 24th wealthiest people on earth today with a prospective $19.1 billion USD sitting in his pocket today via his 503.6 million shares and options in Facebook. This puts Zuckerberg in contention with Amazon's own Jeff Bezos who currently sits in the number 23 spot on
Bloomberg's Billionairs Index.

For those of you counting, Google's Larry Page and Sergey Brin sit at numbers 30 and 31 on the index today. As for the stock trends today for Facebook, the social network has thus far (at 3 PM EDT, specifically) accounted for a massive 6.9% of the total US stock market volume for the day, that also being 22% of the trading done in the entire NASDAQ composite. Have a peek in our timeline below to stay in-tune with everything that's happened surrounding Facebook's IPO today and stick with us as we wind up the end here in just a bit.