Facebook April 4 event invite teases Android-related announcement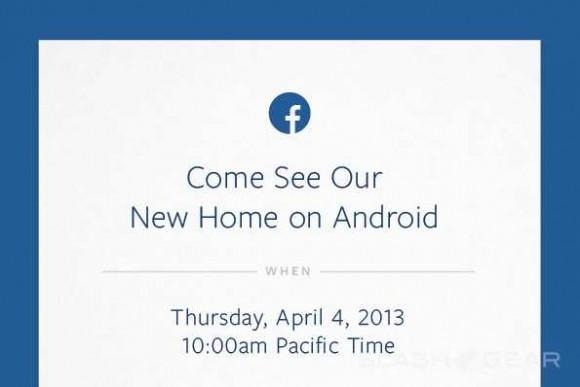 Facebook has sent out invitations to an event on April 4 at its place in Menlo Park, California. What's it about? We don't know exactly, but the invite says "Come see our new home on Android," and so the two most likely options seem to be either a new Facebook app or a Facebook-related Android operating system.
If the last prospect gets you excited, take heart: some sources have come forward to say a Facebook Phone is on the horizon. The invite is a simple tease – vague title, location, date and time – giving us just enough information to spend the next week guessing. Some sources have surfaced, however, saying that we should expect an operating system.
According to the folks over at TechCrunch, a source who previously advised them to be on the lookout for an April Facebook event has said that Facebook is going to announce an operating system. Specifically, this will be a modified Android operating system that has Facebook functionality woven throughout it, making it a one-stop-shop sort of deal for Facebook loyalists.
And, of course, what is an operating system without some hardware? The sources said that Facebook will likely be pairing its modified Android operating system with an HTC handset, model unknown. Both of those things are rumors at this point, the by-product of unnamed sources, and so don't take it without a grain of salt. Stay tuned, and we'll update you next week!