Facebook app update expands notifications with new cards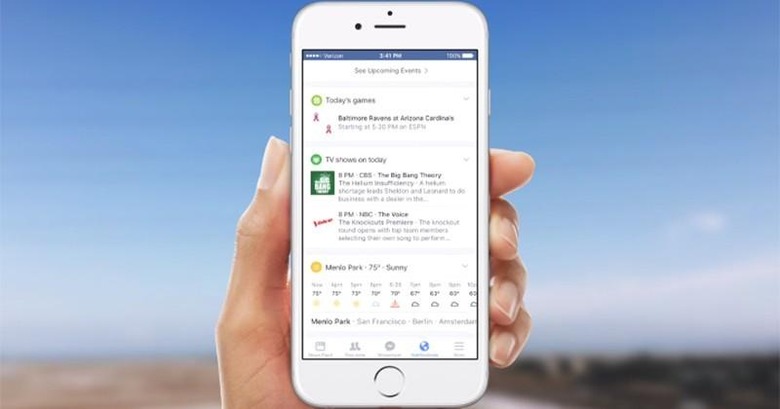 Facebook has announced an updated notifications tab for mobile users. The social network's mobile app has an update rolling out now that brings with it an "expanded, personalized notifications tab" that makes it easier to stay up to date on what's going down in your friends' lives. Feedback from users factored into the changes, says Facebook, and those users will be able to customize some of the content that shows up as notifications.
One request Facebook says it received from users was more control over what they see. Joining notifications, users can add things like info about friends birthdays and live events, get reminders and scores for things like football teams and TV shows, and notifications about events.
Those with Location History enabled within the mobile app will also get access to (if they so choose) updates relevant to their current location, such as updates on the weather or weather alerts, nearby theaters and what they're playing, places to eat, and community events and other community-based activities.
Those who are happy with their present notifications settings needn't worry, as the update won't change any of them. Rather, it will add adjustment options within Settings in which users can make any changes they desire. These updates are heading out now for both iOS and Android users, but are doing so "gradually", meaning you might have to wait a while.
SOURCE: Facebook