Facebook Announces The Facebook Card For Offline Gift Giving

A day after Facebook's Q4 2012 earnings, in which the company saw a spike in mobile users, they have announced the Facebook Card. Essentially, it's a gift card that can store multiple gift cards in one. Plus, the card will manage each balance from however many stores there are on the card. Users can manage their Facebook Card from the web or through the mobile app.
Users who want to gift a Facebook Card to a friend can do so right from the web. Just choose the stores that you want to put on the card and choose how much from each store will go on the card. Then, after checking out, the card will be sent directly to the recipient. Facebook Cards are reusable, so even after you've received another Facebook Card, it will instantly be added to your existing card, that way you'll still have just one card.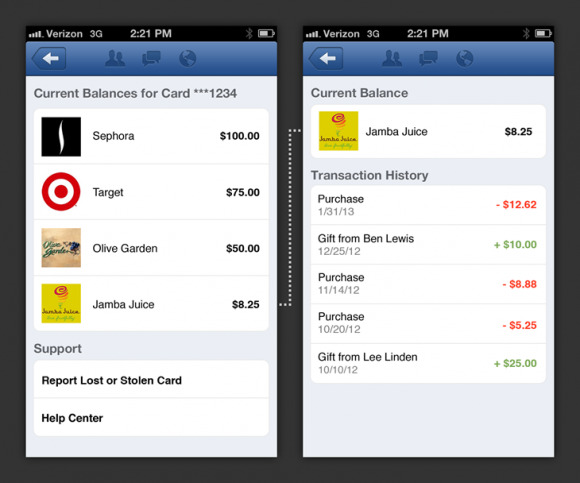 The card can also hold multiple balances, and each balance can be managed independently, and when you use the card, Facebook will automatically send you a notification letting you know your remaining balance. It's a pretty ingenious concept, and one that we're not sure why it hasn't already existed, but nonetheless, it's here now.
The Facebook Card "will roll out gradually to people in the US," according to the social networking giant, but no word on when exactly we'll see these pop up. We're sure this is just another revenue stream for Facebook, but we're quite curious as to why a social network is jumping into the retail gift card business. Either way, we should definitely be seeing users eat this up once its out.