Facebook adds food ordering to fuel your social addiction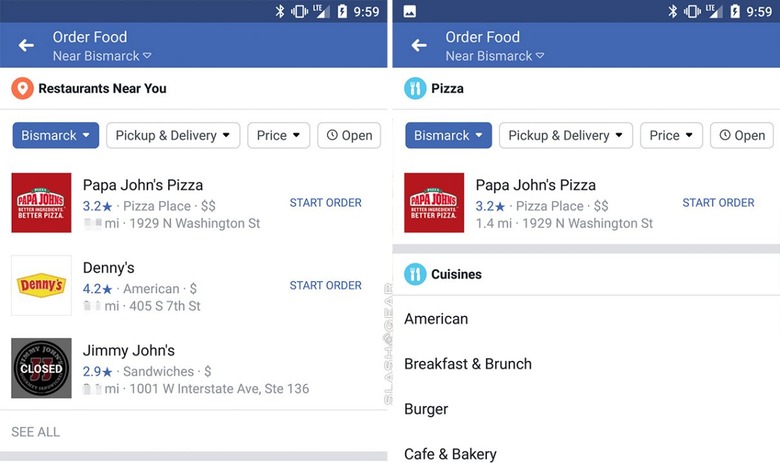 Hungry and have a Facebook addiction? Mark Zuckerberg can help, with the addition of take out ordering directly within the social network. It's part of Facebook's attempt to get you to stay within the clutches of its app empire, rather than allowing you loose to do something as mundane as feed yourself.
As Facebook explains it, ordering food is a natural next-step for the company. People already use reviews on Facebook business pages to help decide where to order from next, along with recommendations from their social circle. Now, you'll be able to complete that order from within the app rather than having to call or pick a different delivery service.
Facebook won't be doing the heavy lifting itself, mind. It's partnering with existing food-specific services like EatStreet, Delivery.com, DoorDash, Slice, Zuppler, ChowNow and Olo, along with standalone options such as Jack in the Box, Five Guys, Papa John's, Wingstop, TGI Friday's, Denny's, Chipotle, El Pollo Loco, Jimmy John's, and Panera. Each will offer up its wares in the new Order Food section, that is being added to the Explore menu.
Obviously you'll only see the options that are available to you locally. Tapping the "Start Order" button begins the actual process of choosing what you want, and then there'll be the choices of pick-up or delivery depending on the restaurant. If you already have an account with a service like DoorDash or Delivery.com, you'll be able to log in with that; otherwise, you'll be able to create a new account from within the Facebook app itself.
The new addition has been in testing since 2016, Facebook says. It'll be available in the US only, at least initially, through Facebook's mobile apps for iOS and Android, and through your desktop browser.
It's another phase of Facebook's continued efforts to make its app extra-sticky, and reduce the number of times users feel the need to exit it. Back in August, it expanded its Marketplace service – which offers Craigslist-like ads for local sales – to seventeen new European countries, taking the total number of locations it's available in to 24. Shortly before that, it launched Watch in the US, a way for shows to better connect with fans, and for enthusiasts to discuss what they're watching.