ezVision unveils TH121 iPod/iPhone adapter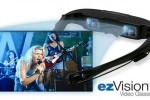 The iPod and iPhone are both some of the most popular mobile video watching devices on the market. The only real catch to watching video on the go with these gadgets is that everyone can see what you are watching and the screens are small.ezGear has announced a new iPod/iPhone adapter for its ezVision glasses that allows them to function with the iPod and the iPhone. The adapter is called the TH121 and it connects directly to the bottom dock port of the iPod or iPhone.
The adapter is Made for iPod and Works with iPhone certified. The ezVision Video Glasses kit with the new TH121 adapter sells for $299.99 and are available now. The price for the adapter alone is $19.99. Depending on the model of glasses you choose, you can get a 50-inch or 60-inch simulated screen size.