EyeClops Portable Microscope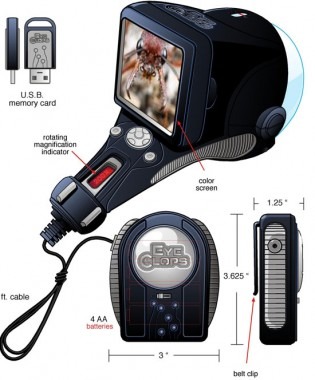 If you're into creepy crawlies or even just taking a better look at the things around you then you need look no further than the EyeClops. The Jakks Pacific EyeClops BioniCam is a portable microscope with some extra special features.
It has an LCD screen which gives you a nice zoomed in view of whatever you point it at up to 400x. There's also a USB memory card which I can only assume means you can save your viewing for later use.
This is actually the third product in the EyeClops series and it'll be released in the Spring for around $70. I think this is a great product which will be fun for adults and kids alike, though I'd had to see the nefarious things adults want to get a closer look at.
EyeClops lets kids view magnified stuff on LCD screen [via gadgettastic]