Eye iPhone case puts an Android phone on its back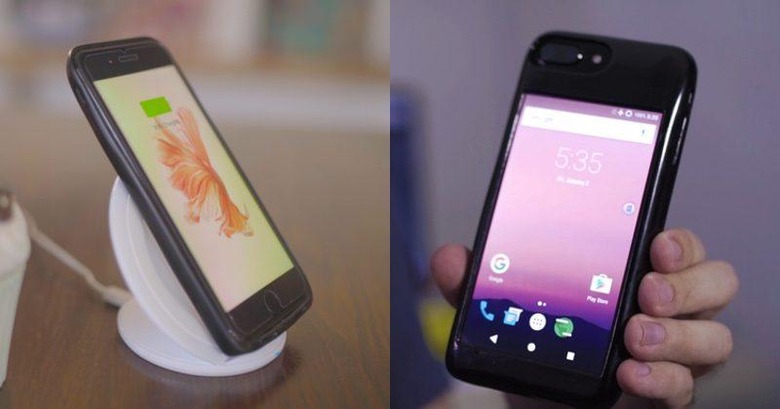 The rivalry between iPhone and Android users are often sensationalized and magnified but, if given the chance, some might prefer having both. That is, as long as it doesn't mean carrying around a second device. Running Android and iOS on the same phone is still an impossibility, but some have tried to find ways around it. Take this Eye case designed for iPhones, whose sole purpose is to augment the iPhone experience by strapping an Android phone on its back. Almost literally, too.
The idea of a case that lets Android "run" side by side iOS isn't a new one. We've seen at least two of those tricks before, first with a bulky DIY case that hides a Raspberry Pi inside and another with a more "professional" looking commercial product. In both cases, no pun intended, the feature is the same. You can only access Android through the iPhone's screen, which acts like a remote desktop viewer.
Eye, however, is different. iOS and Android function independently and have separate screens. How? The Eye case basically puts a minimal Android phone on the back. On the front, you have the regular iPhone as normal. Flip it over, and you get what looks like an odd Android phone. That's not its only trick, mind. The Eye actually has a laundry list of features that do almost sound too good to be true:
• Wirelessly charging the iPhone via the Qi tag beneath the Android screen
• NFC
• microSD card slot for up to 256 GB
• Dual SIM card inside the Eye case, separate from the iPhone's SIM (for a total of 3)
• 5-inch AMOLED screen
• Always on display (Android)
• Additional 2,800 mAh battery
• 3.5 mm headphone jack
Although the two platforms exist separately, they do interact from time to time in rather interesting ways. For example, the iPhone side can save its photos to the microSD card that can then be accessed as normal by the Android side. The Android side also has access to the iPhone's main (rear) camera. In theory, the Android screen is mirroring the iPhone screen showing the camera view. In practice, it's like taking a selfie with the higher grade camera.
Sold? Better not plan on buying one. The Eye is currently still on Kickstarter, though it has already passed its funding goal, perhaps proving that there is more than enough interest in this kind of smoke and mirrors trick. Whether creators ESTI Inc. will be able to deliver on time, if at all, is something you might have to cross your fingers for.
VIA: Kickstarter