ExpressCard 2.0 specification nears finalization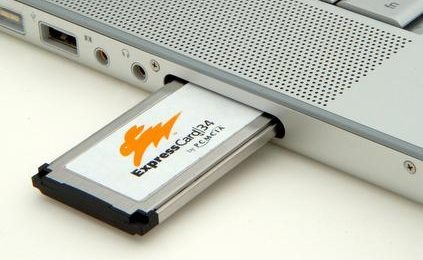 It's not only USB 3.0 that has reached a milestone today; ExpressCard too has notched up another specification, taking it to 2.0.  Based on PCI Express 2.0 and USB 3.0 specifications, ExpressCard 2.0 will support data transfers from between two and ten times faster than the current version.  That can be used in anything from SATA 2 drive attachment, to ExpressCard flash-memory expansion.
As with USB 3.0, ExpressCard 2.0 slots will be backward compatible with cards based on the existing v1.2 specification.  Dell, Fujitsu Siemens, HP, Intel, Lenovo, Lexar Media, LG Electronics, Microsoft, Sony, Texas Instruments and Toshiba are all planning to support 2.0.
ExpressCard 2.0 is due to be finalized and released in early 2009.  Products based on the standard should hit shelves in 2010, the same as USB 3.0.
Press Release:
PCMCIA Announces Release 2.0 of ExpressCard®

Standard

Latest Release Offers Improved Transfer Rates Based

on New PCI Express® 2.0 and USB 3.0 Specifications

San Jose, CALIF, (Nov. 17, 2008) — PCMCIA, the leading

technology trade association for PC Card(TM) and

ExpressCard® technology, today announced the newest

release of the ExpressCard Standard 2.0. This version

has been significantly updated to accommodate the

faster speeds increasingly demanded by today's

high-performance mobile technologies.

ExpressCard technology (www.expresscard.org) is the

next-generation PC Card technology for

high-performance expansion of desktop and mobile

systems. ExpressCard and PC Card slots can be found

in more than 95 percent of notebook computers.

"ExpressCard technology is closely tied to the PCI

Express® and USB specifications, and the 2.0 release

of our standard takes full advantage of recent

advancements in both interface technologies," said Brad

Saunders, chairman, PCMCIA. "Now that the new

SuperSpeed USB specification is ready, PCMCIA can

move forward to finalize the ExpressCard 2.0 release

and make it available to members in early 2009.

Consumers can expect to see new, innovative products

that take advantage of the enhancements offered by

the ExpressCard 2.0 Standard starting in 2010."

"SuperSpeed USB brings a whole new level of

performance enhancements that will drive the next

generation of consumer electronics," said Jeff

Ravencraft, USB-IF president and chairman. "Having

SuperSpeed USB support in the latest ExpressCard

Standard gives developers an additional form factor to

take advantage of these new features. ExpressCard

technology is a natural extension of USB."

The new ExpressCard Standard will support transfer

rates ranging from two to 10 times faster than

ExpressCard Standard 1.2, depending on the data

protocol used. Some of the applications that benefit

from the improved performance are:

•Serial Advanced Technology Attachment (SATA) 2.0

adapters supporting large file transfers between

computers and various storage devices;

•USB 3.0 adapters supporting large file transfers

between computers and peripheral devices;

•Very high-performance streaming media and video

adapters; and

•Very high-performance storage modules based on flash

memory technologies, e.g. solid-state drive applications.

The ExpressCard Standard is based on the advanced

serial I/O technologies, PCI Express® and USB. The

Standard is being updated to comply with the recent

release of the PCI Express specification, Version 2.0,

which offers transfer rates of up to 5Gbps, two times

faster than its previous version. The ExpressCard 2.0

Standard also supports the new USB 3.0 specification

released today. SuperSpeed USB will support speeds

of up to 10 times faster than Hi-Speed USB.

The ExpressCard 2.0 Standard supports backward

compatibility with products compliant with any previous

versions of the Standard. Any compliant ExpressCard

product will work in any ExpressCard slot, regardless of

which version of the Standard the product complies

with. A new product compliance and logo program will

be phased in once the ExpressCard 2.0 Standard is

released.

Current ExpressCard "plug 'n' play" applications include

memory, local area network (LAN), wireless broadband

(WWAN), WiFi, memory adapters, parallel adapters,

serial adapters, TV tuners, smart card readers,

instrumentation, 1394A&B adapters, serial ATA (SATA)

adapters and USB adapters.

Dell, Fujitsu Siemens, HP, Intel, Lenovo, Lexar Media,

LG Electronics, Microsoft, Sony, Texas Instruments and

Toshiba are among those supporting development of the

ExpressCard Standard.

About PCMCIA

PCMCIA (www.pcmcia.org) is a non-profit trade

association founded in 1989 to establish technical

standards for PC Card technology and to promote

interchangeability among computer systems. Already

a feature in almost every notebook and palmtop

computer, PC Card technology empowers users to

configure systems and create unique, integrated

solutions to meet their computing needs. Based in San

Jose, California, the association has a growing

membership of 150 companies worldwide. The PCMCIA

also has a specification development and co-publishing

relationship with the Japan Electronics and Information

Technology Industries Association (JEITA) covering PC

Card and Smart Media technologies.