Explore an underwater statue grave with Google Maps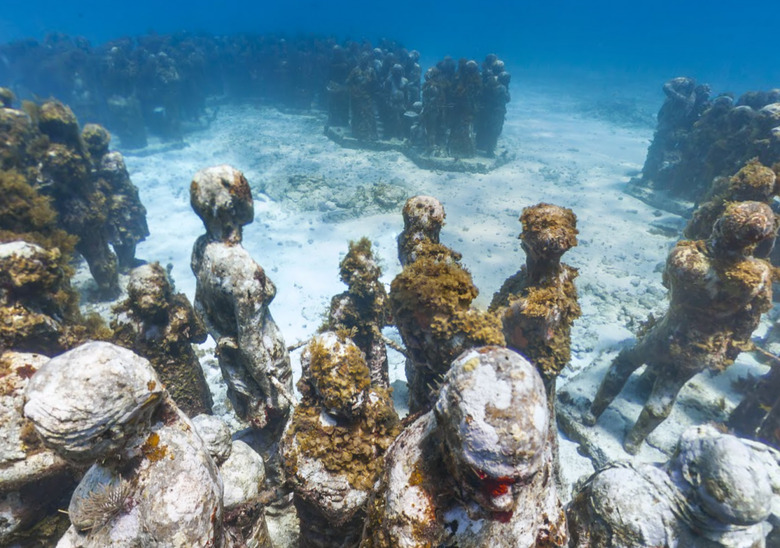 The Cancun Underwater Museum is the location of the collection of humanoid sculptures you're about to see. Collected by the Catlin Seaview Survey and uploaded straight to Google Maps, this exploration is free for any user to take part in, be it with your desktop computer through a web browser or on your smartphone. At this time Google Cardboard integration is unknown.
This is the newest – though not 100% new this year – way Google Maps is capturing the whole world on camera. This collection was captured, again, by the Catlin Seaview Survey, not Google directly, but has become part of the Google Street View – or "Google Maps Views" as it's called now – environment.
These statues have been placed – not discarded. They began as part of a 2009 Jason deCaires Taylor artist project – they're called pH neutral sculptures.
Below you'll see another masterpiece of a capture from the Catlin SeaView Survey, this time in Ecuador. This image comes from the Marine Reserve of Galapagos and is a single photo sphere.
Last we're having a peek at the USS Mohawk Memorial Reef. This is produced for Lee County and captured by David Ulloa – who suggests many more ships are coming in the future!
Have a peek at our Google Maps Street View tag portal for more action. We've got so many odd "Google Maps Views" articles it'll make you want to dive right in!