Exploding Kittens Comes To iOS And Android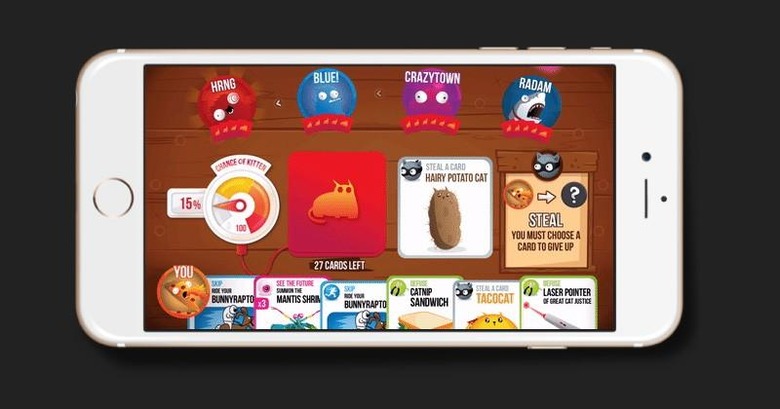 Exploding Kittens sounds like a pretty horrible name for a game. After all, who would want to harm creatures as cute and cuddly as kittens? Well, no actual cats were harmed in the making of the popular card game. And today the game moves from physical cards, to a rather interesting app.
The original game was co-created by the same guy that brings us The Oatmeal. You'll find the same sort of humor in each of the cards that you'll find in The Oatmeal's unique comics. And now those same cards (and more) are coming to both iOS and Android.
What's interesting about the move to an app is that you won't play the whole game with just one device. Everyone playing will need to download the $1.99 app. You'll then connect your phones via a combination of Wi-Fi and Bluetooth and start playing. Of course, they candidly state that the whole process of connecting this way is rather new concept, and it doesn't always work right.
What's really nice is the fact that if you purchase the app now, all in-app purchases are free for the next 4 days. You'll be able to pick up the new Party Pack expansion deck, and a bunch of fully-voiced avatars to represent yourself. If you've never tried out the card game, this might be a fun, low-cost way to try it out. Unfortunately it's only available on iOS at the moment, though the Android version is coming soon.
Source: Exploding Kittens