Experience Firefox OS on your Android phone the safe way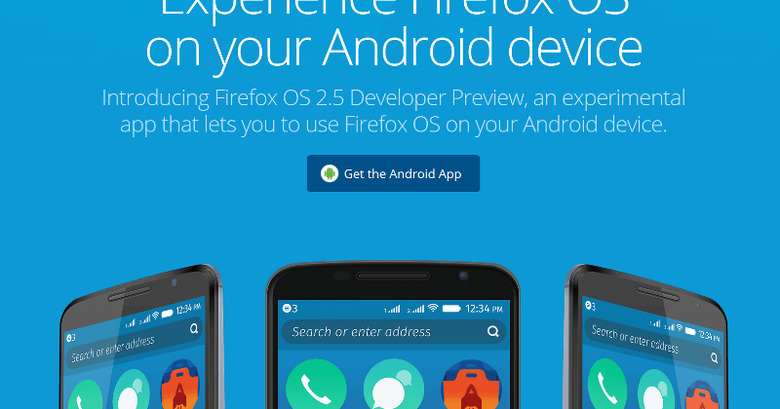 It's been a while since we last heard from it, but it seems that Firefox OS is still ongoing. And though the stream of Firefox OS smartphones have slowed down to less than a trickle, there's now a way for you to get a taste of what the platform really has to offer. To some extent, that is. Mozilla has just launched the developer preview of Firefox OS 2.5 for Android phones that you can now install just like a regular app. No need to flash your device just for an appetizer.
This isn't exactly completely new to be honest. Last June, some Mozilla developers revealed b2gdroid, which really means "Boot to Gecko Droid", a project that turns Firefox OS into somewhat of an Android launcher. It's practically the same concept here, but, now a bit more refined, a bit more useful, but still not completely stable nor finished.
Unlike most Android launchers, Firefox OS 2.5 doesn't just replace your home screen. It also adds some standard apps like e-mail, calendar, or phone, just to name a few. It even takes over notifications, or at least is meant to. It's easy for Firefox OS to do all these without really installing additional apps, as these apps are all Web-based instead of native Android software.
That said, the experience is still far from perfect and might make the unwitting user think badly of Firefox OS in general. This latest iteration is admittedly more fluid, even more bouncy, than the highly experimental b2gdroid but it still quite slow in many places. Integration with the Android system is mostlhy superficial. Notifications don't really come into the launcher and simply sits hidden on the native Android notification tray. It doesn't detect the phone's SIM or even data storage and therefore locks out access to Phone and even Music apps.
Of course, there's a reason why this release is marked as a Developer Preview. It's meant to serve simply as a curiosity for end users but more as an introduction for app developers that Firefox hopes to entice. Given the state of the preview, however, it might need to do a bit more enticing.
SOURCE: Mozilla