There are a number of folks that prefer to stand all day while they work on their computers. For these folks there are a bunch of different ergonomic desks that allow you to stand up. Evodesk has now made a convertible gaming desk for PC gamers that can be used when standing or when sitting. To raise or lower the desk, you just hit a button and the desk moves under its own power.
The front of the desk has a curved indention to allow you to get closer to the desk and reach more of the desktop called Ergo Edge. The entire surface of the desk is finished in a material called EvoGuard that is designed for high mousing precision. That means you need no fancy gaming mouse pad, you simply put the mouse on the desk surface.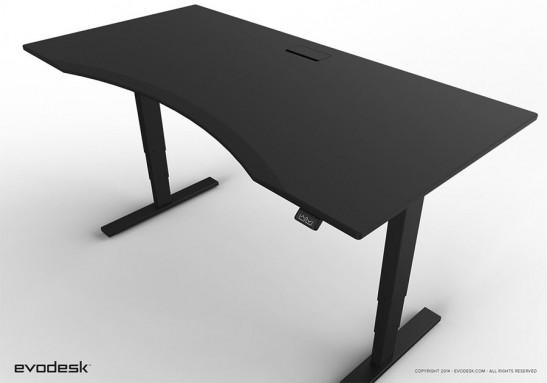 The frame of the desk is adjustable and expandable so you can add new features like monitor stands in the future. A cable management tray system is built into the desk so you can hide all those wires. Ergo monitor arms can be added to the desk to support single, dual, triple, or quad monitor configurations.
Buyers can customize the desk down to the color of the surface and Evodesk has over 8,000 unique combinations that can be chosen. Sizes range up to 72-inches wide and different shapes are available. It's not a cheap desk with pricing starting at around $700 for a 48-inch model.
SOURCE: Evodesk