Evive embedded tool kit gives you IOT toolkit in one package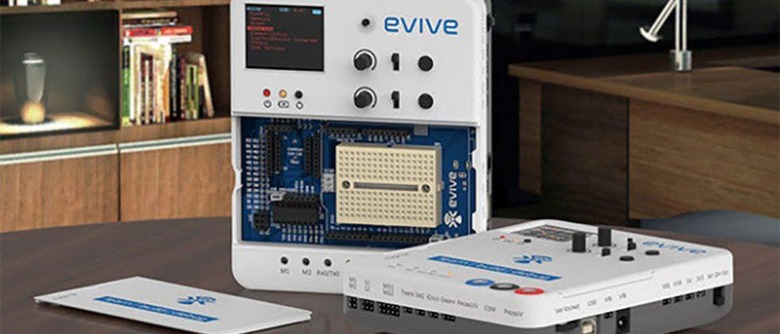 If you want to build and create Internet of Things (IoT) devices, you need quite a bit of hardware and tools to be able to do that. According to the people behind the Evive all in one toolkit, this little gem can replace about $250 worth of tools and dev boards. One big upside is that the slick little AIO device puts all that you need in one compact and easy to store or take with you package.
Evive promises to be easy enough to use that hobbyists and noobs can learn the ropes yet powerful enough that researchers, pros and educators can benefit from it as well. The device is powered by Arduino and has a visual interface. An integrated battery powers your creations and it supports plug and play devices.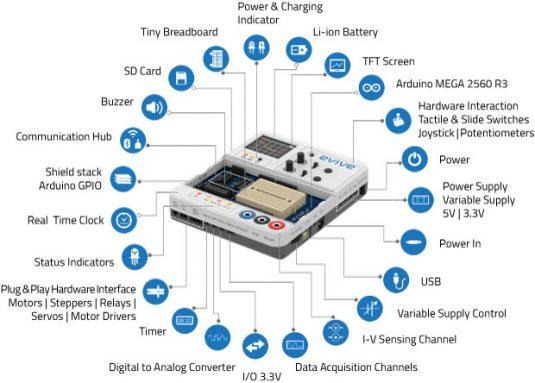 An SD card slot allows for sense, plot, and log functions. Modular functionality allows the device to be expanded to suit different tasks. Accurate current and voltage sensing ability lets the user collect and analyze data from their device. Evive supports sensors and actuators acting as a prototyping hub.
The list of tech specs is long, but the major specs include Arduino MEGA 2560 R3, power supply, variable supply, and power in. The Evive has a USB port, digital to analog converter, data acquisition channels, real-time clock, SD slot, communication hub, and Shield stack Arduino GPIO. Evive is on Indiegogo seeking $30,000 and has raised a bit over $4,900 with a month to go. An early bird kit it the Evive and a slew of cables and other accessories sells for $109. Shipping is estimated for December 2016. An additional $35 will get an upgrade from Arduino MEGA compatible board to Genuino MEGA board.
SOURCE: Indiegogo