EVgo is putting new EV chargers in the last place we expected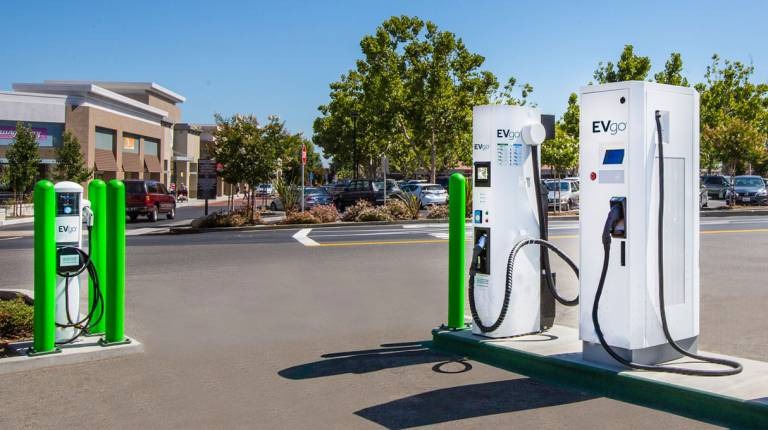 Electric vehicle owners may end up taking them to gas stations after all, with one of the big names in gasoline finally waking up to the idea that its locations might be a good place for an EV charger. Chevron has teamed up with charging network EVgo to upgrade a number of gas stations with electric car charging facilities, as part of a test deployment.
It's fair to say that big oil hasn't been especially open to electrification of transportation – and the implications for its business. Availability of refueling options remains one of the big advantages of traditional internal combustion vehicles – or hybrids – over their electric counterparts, and gas stations haven't wanted to do anything that might jeopardize that audience.
That hasn't stopped some headway from greener transportation options into gas station locations, mind. A small number in California have added hydrogen pumps, for example, catering to fuel cell vehicles such as the Toyota Mirai, Honda Clarity Fuel Cell, and the Hyundai Nexo Fuel Cell. Even so, they've been limited deployments.
EVgo and Chevron's partnership has the potential to be something far more interesting. Initially it will include five stations in California – in Los Angeles and the San Francisco Bay Area – with more than a dozen fast chargers. They'll offer between 50 kw and 100 kW charging, vehicle and location depending.
The first site is already operational, with a Menlo Park Chevron station in the Bay Area already offering fast charger access. Additional stations, meanwhile, will follow over the next few months, EVgo says.
It's still very early days, of course. Five stations aren't going to move the needle much in terms of overall accessibility to EV charging, and Chevron has plenty of other locations in the Bay Area that just offer gasoline as normal. However, it's a sign that, as fast charging increases in availability, such chargers could be feasible in new places.
On a Level 2 charger, which typically tops out at 9.6 kW, you'd need to be parked for several hours before adding a meaningful number of miles to your EV. With a 100 kW fast charger, however, the potential range adds up far more rapidly. Not, of course, as fast as filling up a gas tank, but enough to at least make a mid-journey pitstop practical.
What remains to be seen is whether Chevron continues its roll-out of chargers, and indeed whether other gas companies begin to soften their stance on electrification. Making chargers more available could well give gas stations another audience to sell to, one which would be potentially more likely to buy other things as they wait for their car to charge, after all.