EVGA GeForce GTX GPU bundles includes free games and more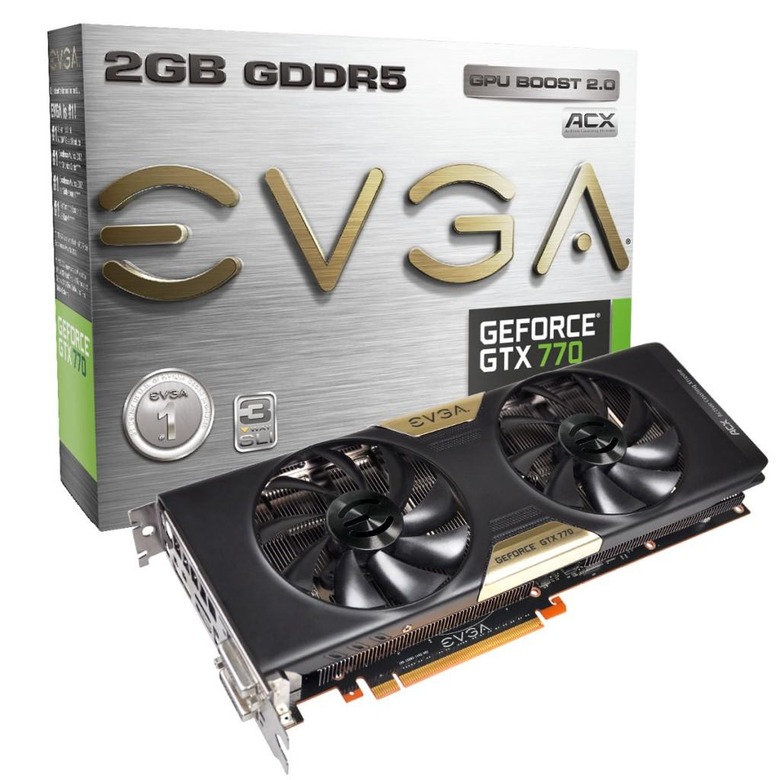 When computer gamers need more performance from their gaming PCs one of the most common places to start is with an upgraded video card. Nvidia video card partner EVGA has announced some interesting deals for the holiday season of 2013 that gamers can take advantage of right now. EVGA has unveiled some very nice free game bundles to along with some of its high-end video cards.
PC gamers who purchase one of several available EVGA GeForce GTX 770 video cards can get a free three game bundle with their purchase. These aren't older or obscure titles either, all three games are brand-new and will be some of the most popular PC games of the season.
The three video games include Batman: Arkham Origins, Splinter Cell Blacklist, and Assassins Creed Black Flag. To get all three of those video games at no cost PC gamers have to purchase the GeForce GTX 770 through the GeForce GTX Titan. The bundle will also get the gamer $100 off the Nvidia Shield portable console. The GTX 770 video cards start at $329
Gamers not wanting to spend that much money can opt for the EVGA GeForce GTX 660 and up featuring a similar video game bundle. The bundle for the cheaper video cards includes Assassins Creed IV Black Flag and Splinter Cell Blacklist. The bundle will also get gamers $50 off the Nvidia Shield portable console. The cheapest video card to get this bundle is the EVGA GeForce GTX 660 starting at $199.99.
SOURCE: EVGA