Evernote takes Moleskine into the notebook cloud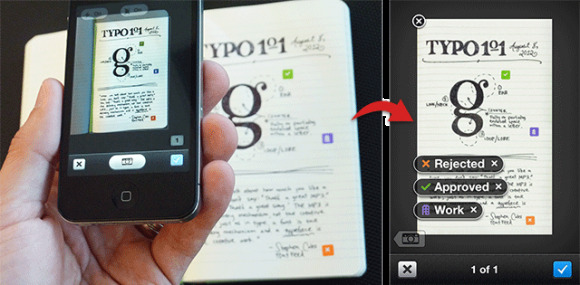 Digital notebook app Evernote has taken a break from weaning us off paper and into the cloud, with a new Moleskine deal seeing the cult pads made app-enabled. The Evernote Smart Notebook by Moleskine works with the freshly updated Evernote apps for iPhone and iPad, offering the ability to digitize handwritten notes and sketches simply by taking a photo, and assign them to folders and with tags by slapping on a sticky label.
Two versions of the Evernote Smart Notebook by Moleskine are on offer, either with ruled lines or squares, and both use a new micro-dotted paper which works with the tweaked iOS apps. A new Page Camera option in the app shoots a photo of the notebook itself, relying on the micro-dots to correct skew and brightness.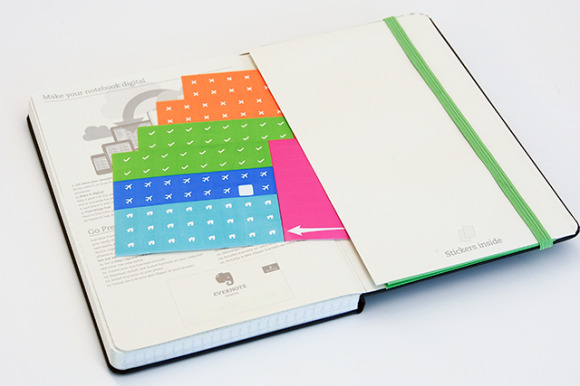 To organize, a set of stickers is included in the back pocket of the notebook. These are recognized by their color by the app, and can be used with various preset tags or customized to suit the individual user. So, you can write a shopping list and slap on a "Shopping" sticker, and Evernote will automatically file the new note with your Shopping tag for easier recall later on.
Meanwhile, Evernote's existing handwriting recognition is used to allow written notes to show up in search results; there's also a set of Skitch arrows that can be stuck onto notes to help draw attention to them.
The new Moleskine notebooks will begin shipping on October 1, priced at $24.95 for the pocket-sized version and $29.95 for the large version. They're up for pre-order now. No word on whether the Evernote Android app will be updated to support the same Page Camera functionality.