Evernote reminders come to iOS, Mac, and the web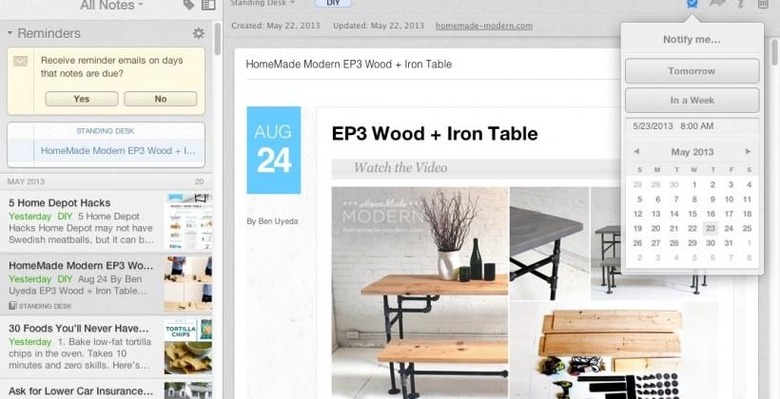 What's apparently Evernote's "most-requested feature" is now available on the company's note-taking app for iOS, Mac, and the web. The app has been updated to include reminders that give you the ability to notify yourself of a note that you posted in Evernote, making sure that you don't forget about it at a later time.
The reminders are pretty easy to set up as well. All you do is select the note that you want reminded about, and click the small alarm clock icon in the upper-right corner. From there, you just set the time and date, and the reminder is created and ready to go. You can also set other parameters, like how you want to be notified (through an email, notification, etc.).
This feature can be extremely handy, especially for work or school purposes where you have a deadline or due date for a particular project or essay. Personally, I really wish I had this feature during my college days, as I would save research notes and then quickly forget about them as I move onto another project.
Reminders are also synced across platforms, so setting a reminder on your Mac will also have it appear in the iOS app and web app as well. Sadly, Evernote hasn't yet rolled this feature out to Android or Windows apps, but it should be only a matter of time before that happens. In the meantime, you can use the web app on Windows if you want reminders that badly.
Evernote is continuing to outpace its competitors by becoming more than just a minimal note-taking app. It may have started off as one, but it quickly became a feature-filled product that act as an all-in-one file cabinet of sorts, allowing you to save websites, images, documents, and other notes, as well as the ability to take photos and scan documents and have them upload straight to Evernote. Other apps are trying to keep up, but Evernote already has a strong hold on the note-taking market.
VIA: Evernote Blog
SOURCE: Evernote, iTunes App Store, Mac App Store