Evernote Food for iOS updated with a bunch of new features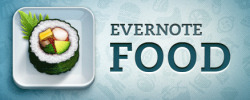 Evernote Food has been updated for iOS devices to bring in a bunch of new features to food lovers and chefs alike. The new updates will help you customize and personalize your cookbook to your own liking. If you have a recipe that you're just dying to share with your friends and family, there are new sharing options to help you do that. And if you need to get reservations quickly at a nice restaurant, just head to the built-in OpenTable app to make them.
Evernote Recipes allows seamless recipe transfers to the app from your native Evernote app. If you have a bunch of recipes saved up in Evernote notes, you can sync them to Evernote Food. You can choose how you import your recipes, whether its by tags, or by entire notebooks. Your recipes will stay organized the way you kept them in the original Evernote app, so you don't have to worry about going through that long process again.
After you sync all of your recipes, you can easily share those recipes with any friend or family member. Just scroll on over to the recipe you want to share and send them to others via Twitter, Facebook, or email. And lastly, you can now make reservations straight from your Evernote Food app. The OpenTable system has been integrated with the app, so you can now make reservations at your favorite restaurants within minutes. Also included are FourSquare ratings, so you can see just how popular a restaurant is before you dine there.
Evernote Food is an all-around great app that combines all of the important aspects of food apps into one, single app. You can make a cookbook, have a restaurant wish list, keep track of meals you've cooked, and more all with Evernote's renown organization capabilities. Unfortunately, the Evernote Food update today is limited only to iOS devices, so Android users, you'll have to wait a little while before you can take advantage of these great features.
[via Evernote]