Evernote Clearly adds text-to-speech for Premium members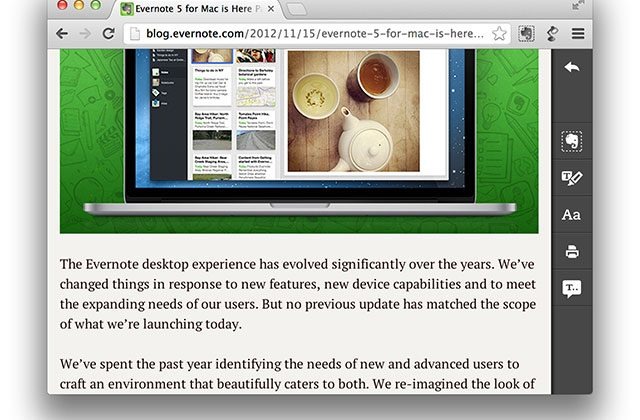 Evernote Clearly is a Google Chrome extension that promotes distraction-free reading on websites. By just clicking on the extension button, all ads and navigation controls are hidden, leaving users with a simple webpage with the only the text that you want to read. Evernote announced today that they're adding text-to-speech capabilities to the extension.
Evernote explains that the new features is incredibly handy when you don't have time to actually sit down and read an article. By opening a link to an article and clicking the Text-to-Speech icon in Clearly, the article will read itself aloud to you, letting you do other tasks while you listen. Evernote says that it's "like instantly turning articles into podcasts."
However, in order to take advantage of the new feature, you have to be an Evernote Premium member, which costs $5 per month, or $45 for a yearly subscription. But if you use Evernote a lot, we can't say that Premium membership wouldn't be worth it. And on top of the text-to-speech functionality, Evernote has included the ability to pause, skip ahead, or jump to different sentences.
This new text-to-speech feature supports over 12 different languages, and Evernote says that when you combine it with the text highlighting tool, it can make for a great language-learning tool. Just visit a site in another language, then have Evernote Clearly read it to you as you follow along with the highlighting. The Clearly browser extension is only available for Google Chrome, but Evernote says that it'll be available for other browsers soon.