Evernote adds Drive integration for easier file access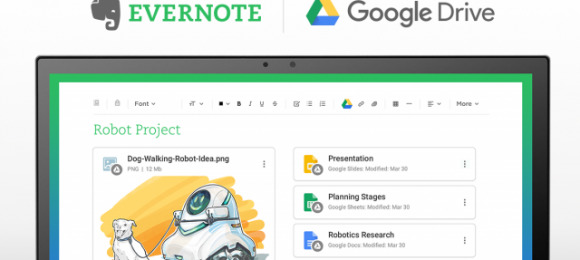 Evernote and Google have teamed to make life easier for both of their respective users — Evernote now allows users to search Google Drive content directly, eliminating the need to toggle away from the app and to a different one. Users can add content from Drive to their Notebooks without leaving Evernote; browsing Drive content is also easier with this new integration.
Evernote is great for storing notes and similar content, but isn't quite enough to replace an ordinary cloud storage account like Drive. Moving content from Drive into Evernote Notebooks used to require navigating out of Evernote and back again, taking up time and, by proxy, slowing down your projects.
As the demonstration video above shows, things are now very simple and quick. Click the "Drive" icon within Evernote, and a window will popup showing the files in all their glory, as well as a search bar for finding a specific bit of content. Navigate around and, when you find it, click the file you want to add to Evernote, and it'll appear in your Notebook with a Drive icon on it.
The Drive content added to Notebooks will also show up when Evernote's search is used, ensuring you find the content you're looking for even if it happens to come from Drive. If you happen to update the content within Drive, as well, the changes will sync with Evernote to keep everything in order. As of today, Evernote users can enjoy the Drive integration on Chrome and Android, while other platforms will get the support "soon." The company teases that this is just the start of "greater collaboration" between it and Google, as well.
SOURCE: Evernote Blog