Evernote 8.0 for iOS redesigned for speed and simplicity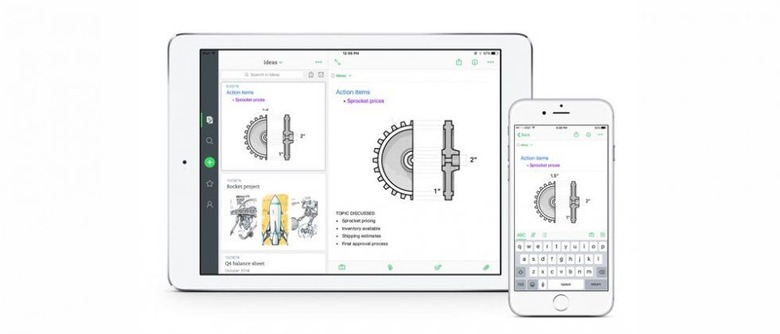 Evernote has introduced an updated and redesigned version of its iOS app for the iPhone, iPod Touch, and iPad. Evernote 8.0 features a new design that aims to provide both 'speed and simplicity,' says Evernote, while making it easy to get and then stay organized. Says the company, the entire Evernote experience has been reimagined from the ground up for the latest iOS iteration.
Evernote briefly runs through the new features in the video below, but there are a few notable elements to be aware of: the ability to add styles and colors to notes, to add new notes with one tap, and to find existing notes more quickly. The latter is made possible thanks to an updated navigation structure that, most notably, removes the previous homescreen.
By getting rid of the homescreen, the new Evernote iOS app presents a user's most recent notes chiefly, making it faster to tap one and get started. The notes list has been made more easily scannable for locating notes, and the notebook selector is easily available for sorting through notebooks specifically.
Evernote 8.0, says the company, also includes a pair of new search features, one that pulls up notes with reminders via a single tap and another that pulls up notes that contain a particular tag you're interested in. Searching and organization aside, the new app also has a big green button in the middle of the lower menu — long press it and you'll get access to a couple options, such as snapping a photo for your notes or recording audio.
Finally, there's the new style support features, too. With them, users can make text small, medium or large in size, and add selectively applied colors, such as big red headers and smaller blue subsections. Evernote Business customers also have received some tweaks, such as a more noticeable division betwixt business and personal notes, as well as a simplified account switching process.
Evernote 8.0 for iOS is available to download now.
SOURCE: Evernote