Everlast Notebook is real paper and pen digital notebook that is erasable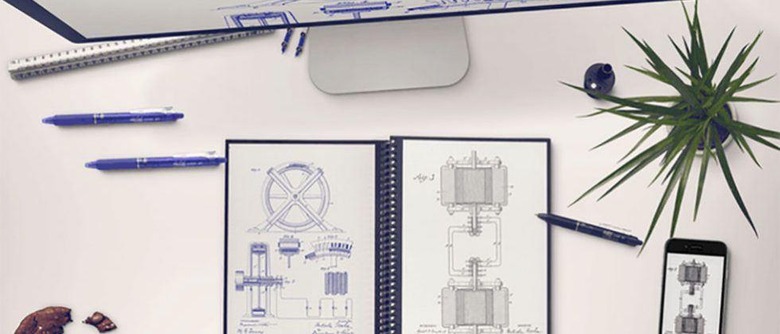 If you write down lots of notes in a notebook there comes a time where you end up with full notebooks that you have to toss or file away somewhere. A new project on Kickstarter is a notebook for the modern age that still gives users the feel and ease of traditional paper and pen, but combines that with digital storage of anything you write or draw.
The notebook works with pens from the Pilot Frixion line. Once you write on the pages if you want to erase what's there all you need to do is add a drop of water to the pages to erase. Everlast notebooks are compatible with the Rocketbook app to save your notes or drawings to Google Drive, Dropbox, and Evernote.
Everlast notebooks come in two sizes with a letter size 8.5" x 11" notebook with 32 pages are a smaller executive size with 6" x 8" pages with 36 sheets in the notebook. Both versions have a dot grid pattern, synthetic blend paper, and polyethylene binding. Both sizes are made in the USA. The project is on Kickstarter and an email will come after the campaign is over that will allow you to choose which notebook size you want.
A single notebook with a black Frixion pen will cost $34. A pair of notebooks and pens will cost $65, and a trio of them will cost $95. Buyers can add a 3-pack of Frixion pens for $7 with black, blue, or red inks. The cool part about the Frixion pens is that you can get them online and in stores in multiple colors. The Everlast project was seeking $26,000 and has raised over $421,000 as of writing with 27 days to go. Shipping is estimated for April 2017.
SOURCE: Kickstarter