Everex announces CE260 Ultra-Mobile Device based on VIA NanoBook UMD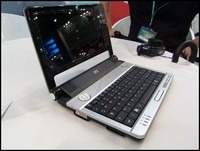 Everex is releasing a new Ultra-Mobile device called CE260 in the United States. The CE260 is based on VIA's NanoBook Ultra-Mobile Device reference design.
The CE260 is expected to be available during the second half of 2007 and it will have a very low starting price.
The VIA's NanoBook Reference Design uses clamshell form factor and sports a 7-inch 840-by-480 resolution screen with touch panel. It is powered by VIA C7-M processor and weight less than 1.87 lbs. VIA claimed that the reference NanoBook have a battery life up to five hours.
NanoBook-Based Ultra Portable Laptop Coming to the U.S. [via brighthand]