Eventbrite Goes Mobile For Ticket Sales At The Door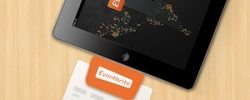 Ticket sales platform Eventbrite is trying to differentiate itself from the many other ticketing sites out there by offering something that sites like StubHub and SeatGeek can't – the ability to buy your tickets outside the theater or arena, by just swiping your credit card. Of course, it also works if you want to buy a ticket in advance, but the startup is branding this new platform with the name "At The Door."
The At The Door iPad app is designed to work a special Eventbrite-branded credit card reader. In other words, it's really just so you don't have to go to the trouble of typing in credit card numbers and other information, something that you might not want to hassle with if you're at an event venue. It also provides users with more data as opposed to just paying with cash.
The new credit card reader "costs" $10, but it isn't really a fee because in exchange, Eventbrite adds $10 to your account. In other words the site just wants to ensure that you'll use it before you get one for free. In addition, the processing fees are being waived for a limited time, though the standard rate will be a 3% fee, as opposed to 2.5% through Eventbrite's website.
[via GigaOM]