Even Samsung's exec is now teasing the Gear S2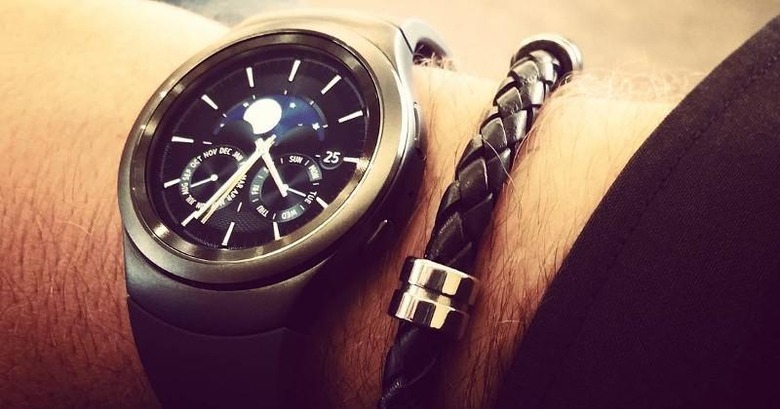 When you have a product that could very well be taken to be a high point in the industry, you might as well flaunt it around, right? That might exactly be the line of reasoning in running in Dennis Miloseski's mind when he posted on Instagram a snapshot of him wearing the upcoming Samsung Gear S2. Miloseski, being VP of Samsung Design America and head of Samsung Mobile UXCA, is so far the highest ranking Samsung suit to give the public a taste of what's to come next week at IFA 2015.
Round smartwatches aren't exactly new and Motorola, not Samsung, has dibs on starting that trend. But while this is Samsung's first round smartwatch, that isn't exactly what makes the Gear S2 interesting to many. It's the rotating bezel that has captured people's attention and imagination, adding a new twist (pun totally intended) to the smartwatch device line. How that new interaction mechanism will be utilized is something we still have to see in action.
Aside from that new interface, the Samsung Gear S2 also has some pretty interesting hardware, as far as smartwatches go, that is. It would be the first wearable to bear a Samsung Exynos processor, a 1.2 GHz Samsung Exynos 3472 to be exact. It would also have the highest amount of RAM among its peers, with 768 MB. Unless the other smartwatches due next week are all have that same memory capacity as well. Like its predecessor, it will bear its own 3G connection instead of relying on a companion device.
The one hitch on this almost perfect smartwatch is that it runs on the Tizen platform and not Android wear. This practically chains the wearable to Samsung's mobile devices and, at least in theory, limits the amount of really useful apps available for it. Perhaps the app landscape there has changed considerably now that there is a Tizen smartphone available. We shall see when Samsung makes the formal announcement at IFA 2015 in a few days.
SOURCE: Dennis Miloseski
VIA: SamMobile