Eve V Review: dreams can come true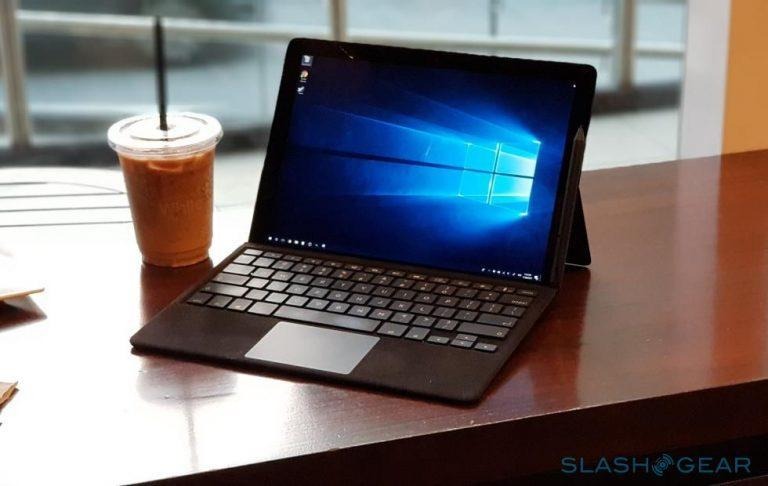 Microsoft has never had good luck with its own hardware outside of the Xbox. And when it did strike gold, the company may have suddenly decided to take things in a different direction. Rumors of the Surface Pro's imminent demise and the OEM fallout that might follow has some 2-in-1 fans worried. Fortunately, a rather daring startup based in Finland, once considered the leader in innovation, not only picked up the torch but even did what no OEM would dare do: ask users directly what they wanted. And thus the Eve V was born. And now we get to take a deep look to see if they were able to deliver.
A fairy tale beginning
They say that when something is too good to be true, it usually is. So when the Eve V hit Indiegogo, which has a bit of a reputation compared to Kickstarter, there was understandably a bit of skepticism. Here was an almost unknown Finnish startup, promising the moon and the stars of 2-in-1 tablet PCs, and challenging not just Microsoft but any OEM, big or small, that has ever made a 2-in-1. It was a David versus Goliath story, and we all know how that ended.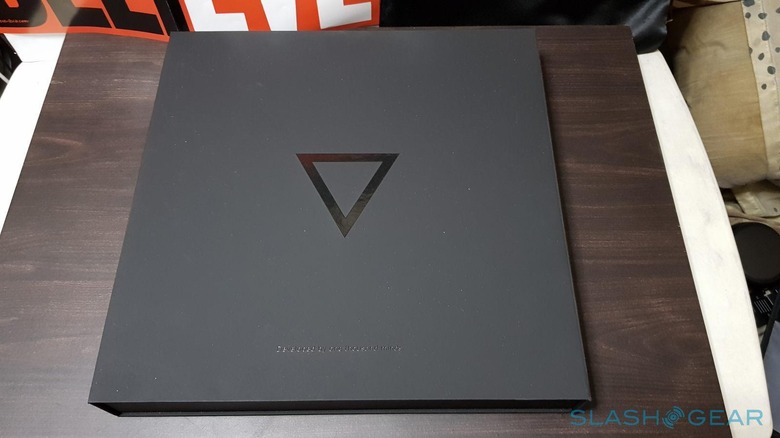 The Eve V wasn't just crowdfunded. It was actually crowdsourced and crowd-developed. Although Eve Tech did make the final calls, almost every aspect, every spec, and every design decision was put through the grueling vote of the community. As anyone who has tried herding cats would tell you, that's no easy task. Over 1,000 minds contributed to what the Eve V ended up becoming: a techie's dream come true.
Design
Boxes these days are often spartan, minimalist, utilitarian, and boring. But from the get-go, the Eve V wants to be noticed and treated differently. The box is square and all-black. There is no decoration other than the Eve-Tech's logo, a downward-pointing triangle that might remind some of a Triforce. Embossed and not immediately seen is the Eve V's slogan: "Developed by one thousand minds."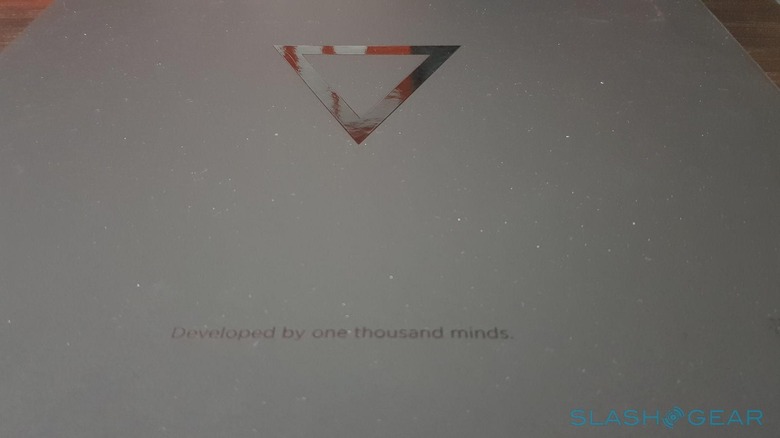 Those thousand minds are listed on the inside cover of the box, a touching tribute to the people who actually made that dream a reality. Most crowdfunding projects will just send you a thank you note (along with the product, of course). Eve-Tech wants everyone to know your name.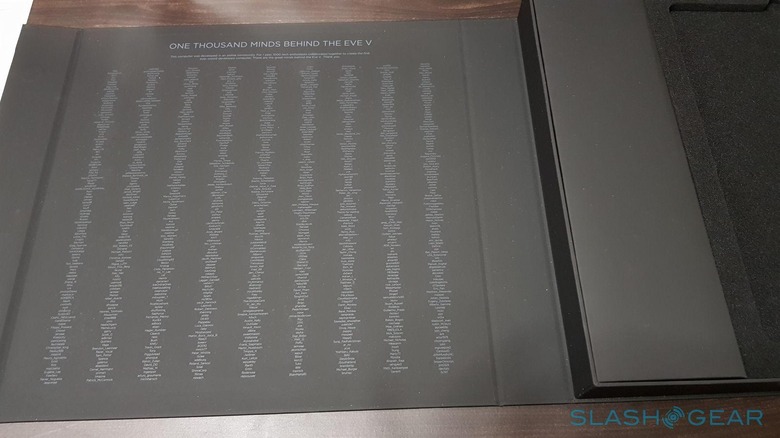 The attention to detail and subtle design hints continue to the device itself. The Eve V boasts of what is commonly regarded as "Scandinavian design", which is usually meant to refer to designs that are simple, minimal, and functional. To some extent, the Eve V mirrors some of the aesthetics of the Surface line up to the Surface Pro 4. But in many ways, it is also distinctly unique and beautiful.
Like the Surface Pro, and many others that followed its path, the V sports flat and hard tapered edges, unbroken by any air vents. The back, however, isn't as cold and has a slight curve where it meets the edges, giving it a softer and smoother look. One thing about this Scandinavian designs is that nothing juts outs, either on the back or at the sides. Not even the power button slash fingerprint scanners. Not even the volume rocker buttons. While this does give it a superbly cleaner look, it does make finding those buttons a bit harder. You'll find your finger sliding over the edge a lot.
The V uses sandblasted aluminum on its back and sides, save for the top where the speaker grilles sit. It has the usual plastic, the necessary evil to let radio waves through easily. Neither are completely impervious to scratches, but the back has more than sharp objects to worry about. While not as much a fingerprint magnet as today's glass-back phones, the V's back can be easily smudged by finger oils and other materials. Fortunately, they are also easily wiped away.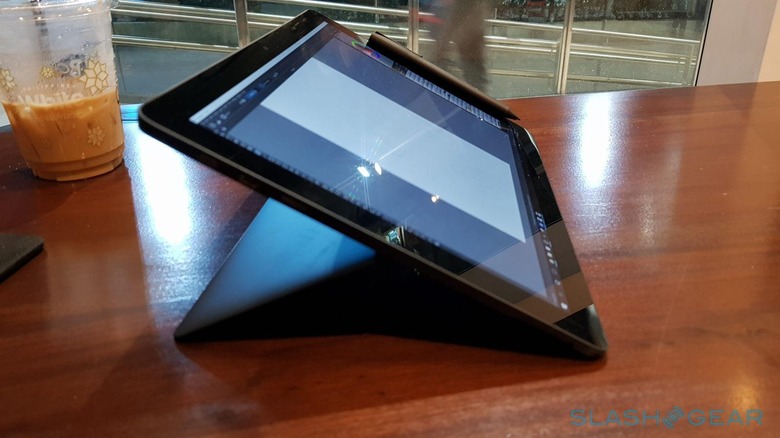 Like the Surface Pro, the Eve V has a kickstand design that has, by now, become easier to get right than wrong. The metal hinges are very sturdy and strong, but only time will really tell for how long. The hinge doesn't fold back as much as the latest Surface Pro models, only up to around 130 degrees, so some artists might find themselves propping up the tablet on some other object. Another nice design touch is revealed when you lift that kickstand, with nearly invisible Eve V logos scattered like alphabet soup. And, if you were lucky enough, the text "First Five Hundred".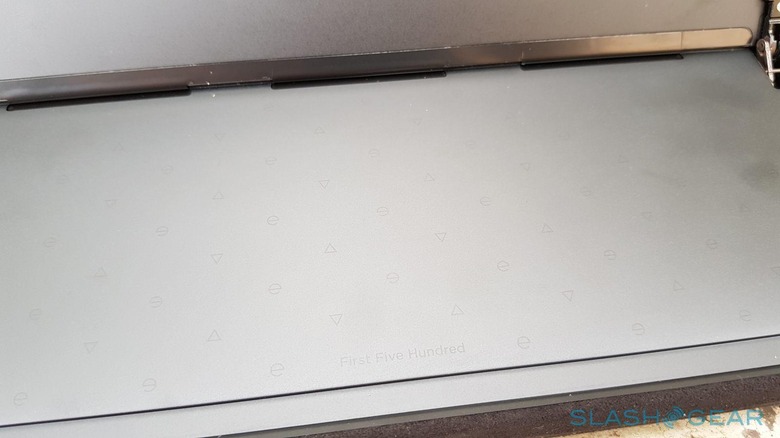 Specs:
While the design defines your first impression of a product, which is already starting out great, it will really be the hardware that will make or break the experience. This is where the V's unique identity shines the most. Every component, or the absence of one, was made with the input of those 1,000 minds. While there may have been some concessions along the way, Eve-Tech mostly stayed true to the path its supporters forged. In other words, this is what they really asked for.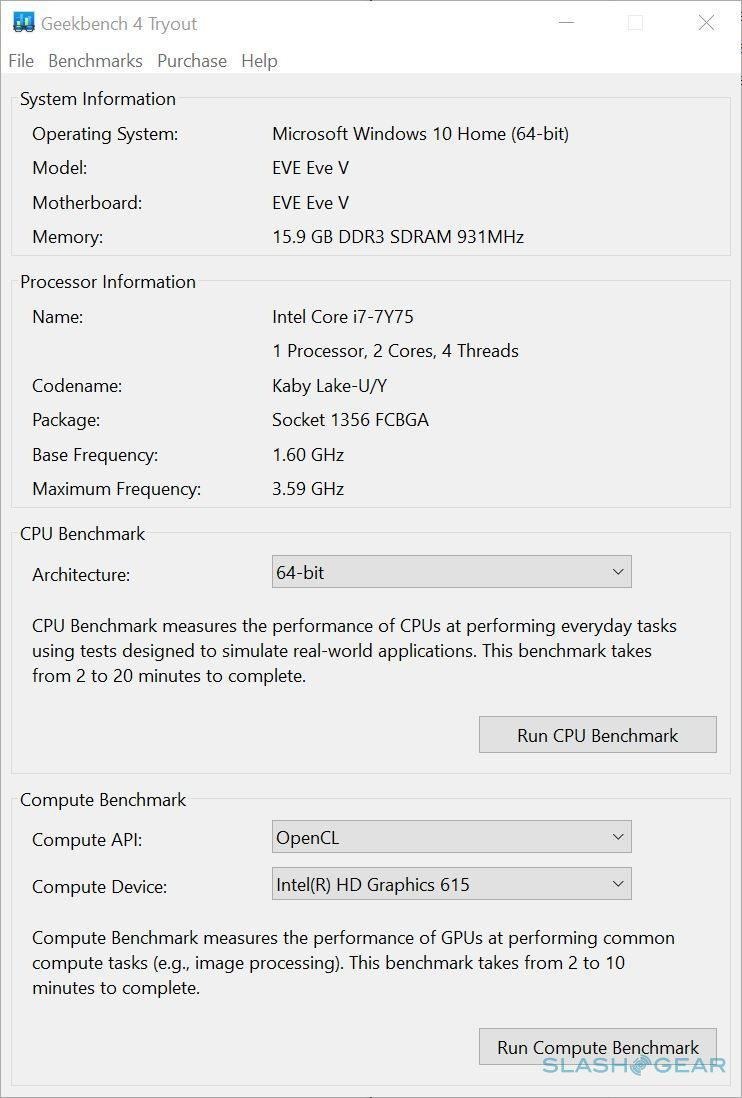 Again like the Surface Pro, the Eve V comes in quite a number of configurations, five in total, differing only in the processor, RAM size, and storage size. So it's a choice between a Core m3 or i5 or i7 for the CPU, 8 or 16 GB of LPDDR3 RAM, and 128 GB to 1 TB of PCIe SSD storage. All Core CPUs from last year's 7th gen line, which is understandable given the V's production timeline. But they're also all of the "Y" series, which we'll get to in a moment.
The Eve V is loaded with hardware features, many of them deserving of their own separate treatment, which they'll get in a while. Some outstanding ones are the 2x2 MU-MIMO AC Wi-Fi, a fingerprint sensor embedded in the power button for Windows Hello, a 5 megapixel rear camera and 2 megapixel front camera you'll probably rarely use, and a microSDXC card reader hidden underneath the kickstand.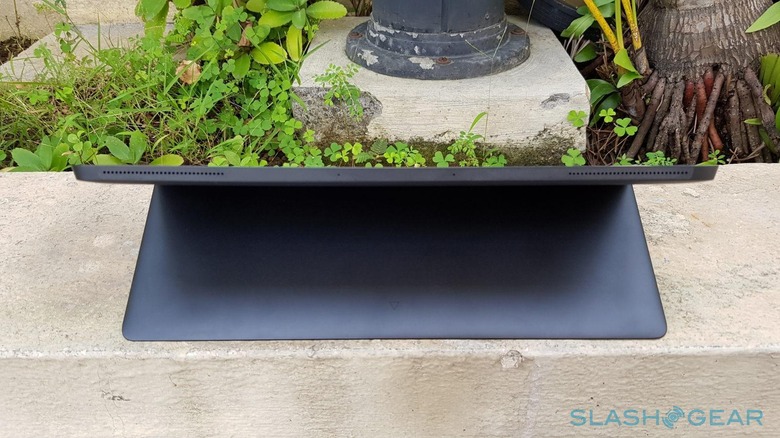 For the audio, the Eve V actually has quad speakers, totaling 4 watts, though you'll only see two grilles at the top. Yes, they're at the top, which is probably one of the weirdest placement of speakers you'll find in Windows tablets, but it does mean your hands won't cover them whether you hold the tablet in portrait or landscape. The tablet has its own headphone jack amplifier and two noise-canceling mics to help Cortana hear you better.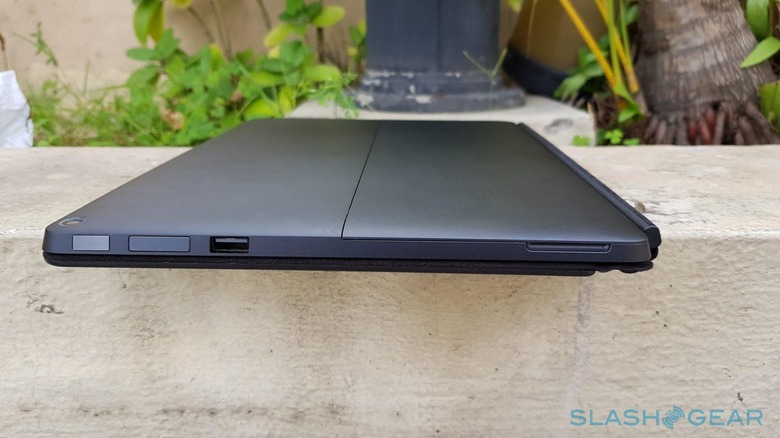 And then there are the ports. Eve-Tech has given V users what Surface Pro owners have been begging Microsoft for years now. Two full-sized USB 3.0 ports, one USB-C 3.0 port for both data and charging, and, perhaps most interesting of all, is a Thunderbolt 3 port. That last bit is one of the things that easily puts the V above any Surface Pro or Surface Book so far.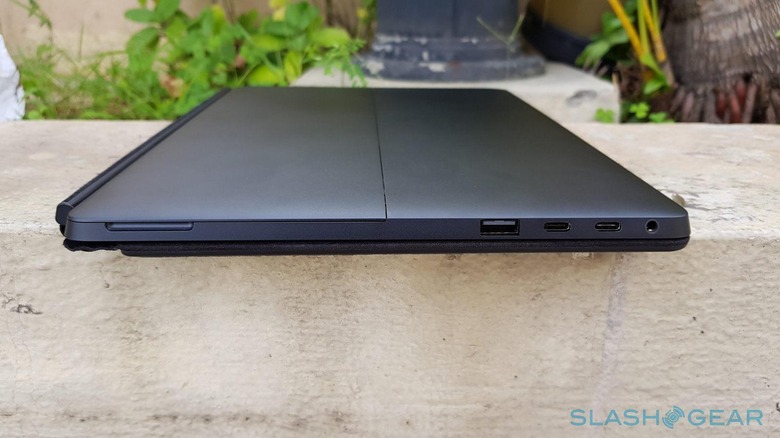 Display
By putting the Surface Pro in its cross-hair, Eve-Tech set itself up for a real challenge. The 2-in-1 tablets weren't just known for their design or specs, they were also known for their screens. Fortunately, the Eve V got it right. In fact, it did even better.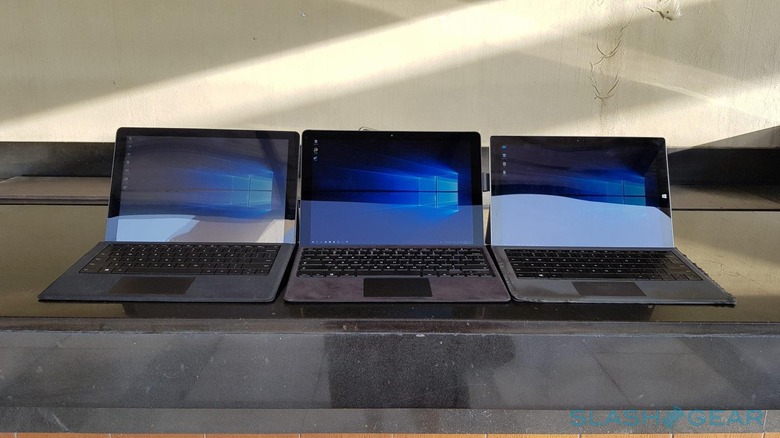 Chuwi SurBook, Eve V, Microsoft Surface Pro 3
The V's screen is only similar to the Surface Pro in size at 12.3 inches. It goes a bit higher with a resolution of 2880x1920 (versus 2736x1824) but still keeps that 3:2 "paper" aspect ratio. Eve-Tech went for a Sharp IGZO LCD screen, considered one of the best LCD panels around. But Eve-Tech is proudest of the fact that each and every single screen is individually calibrated with a colorimeter right at the factory floor, something that no company does, mostly because of logistics.
The end result is a display that is bright, crisp, and accurate right out of the box. Windows 10's "Suggested" brightness setting, roughly 50% is, in fact, too bright for indoor use. Outdoors, the V will fare well except in the sunniest of weathers. And if the color settings are not to your tastes, the V comes with the CalMAN ICC Manager, that lets you bypass Eve-Tech's set profile.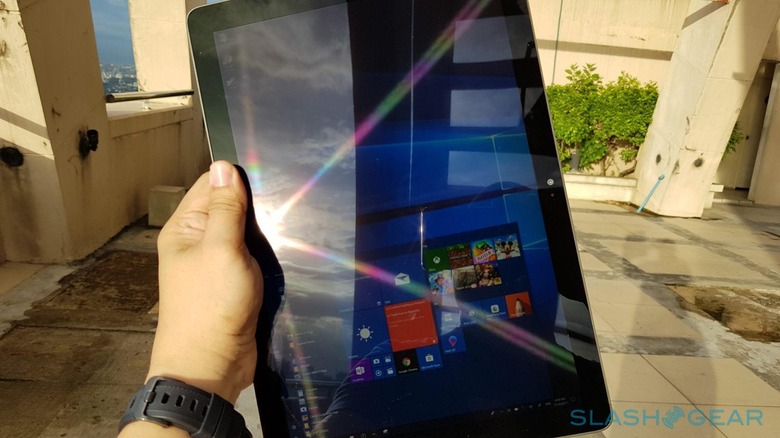 Performance and Battery
Perhaps the biggest controversy that will hound the Eve V is its processor. When it comes to tablets and ultrathin ultrabooks, the Intel processor of choice is usually one from its low-voltage "U" series. The V uses the even lower voltage, and lower power "Y" series, regarded to only be on par with the previous (6th) gen Core processors. Why would Eve-Tech deliberately give such a fine device a handicap? Because the V community wanted to.
To be more precise, it was a question of Performance versus Battery Life and, in the end, longevity won. As a mobile computing device, being able to work longer untethered to a wall socket is, after all, more critical.
But there was another reason Eve-Tech stuck to its "Y" guns. According to its tests, says the company, the performance benefits of the "U" series are negligible because of one important factor: thermal throttling. As with the case with slim devices, keeping temperatures from becoming dangerously high is critical, so processors are artificially limited in their performance. Core "U" processors reach that point faster, and is thus reduced to almost the same performance as an equivalent "Y".
In practice, the Eve V Core i7 review unit performed great. It won't match desktop-class CPUs, of course, but it's well equipped to handle more than just "regular" computing tasks. Multi-tasking is no problem and the tablet can even handle layers of high-resolution images in graphics software, also thanks to the generous amount of RAM. Naturally, the bottleneck is graphics-intensive tasks, like gaming, since the 7th-gen Core "Y" processors have a less capable Intel HD 615 GPU. But the Eve V has a workaround for that. As for that thermal throttling, the Eve V barely gets uncomfortably warm. The only exception is when charging it while using the device at the same time.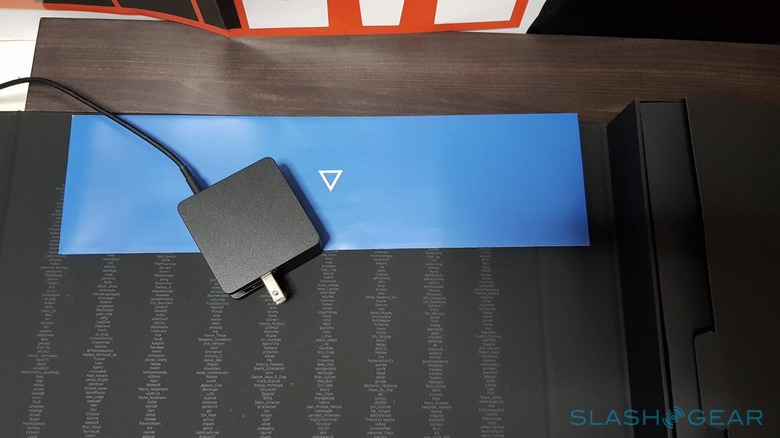 Eve-Tech sacrificed benchmark numbers for the sake of battery life and cool bags, so you'd expect it to last long. The V does deliver, but not the advertised "all day" battery life. On average, with the "Suggested" brightness level, the V lasted a good 9 hours of mixed web browsing, occasional YouTube videos, and text editing. Several factors would, of course, lengthen or shorten that time, from video binging to display brightness. Fortunately, the V's screen is bright enough to keep it on low. Long story short, don't leave home without the charger, a hefty black brick slightly larger than the MacBook Pro's. Sadly, despite the USB-C port, you won't be able to top off even from a large power bank.
The Keyboard
When it comes to tablets, a keyboard is usually an optional accessory. For 2-in-1 tablets, it becomes a necessity. With the Eve V, it becomes almost like a piece of art.
The V's keyboard cover somewhat takes after the Surface Pro 4 rather than older models. Keys are evenly spaced with gaps in between. It uses comfortable Alcantara fabric which still gathers dirt like nobody's business but is also easier to brush off and clean. Key travel is excellent, for a laptop-grade keyboard, of course, and it was a pleasure to use. The touch pad is smooth and almost friction-less, thanks to Gorilla Glass. Some find it too small but Surface Pro refugees will feel right at home. After the rather disappointing experience with the Chuwi SurBook's keyboard, the Eve V's version is a much welcome relief.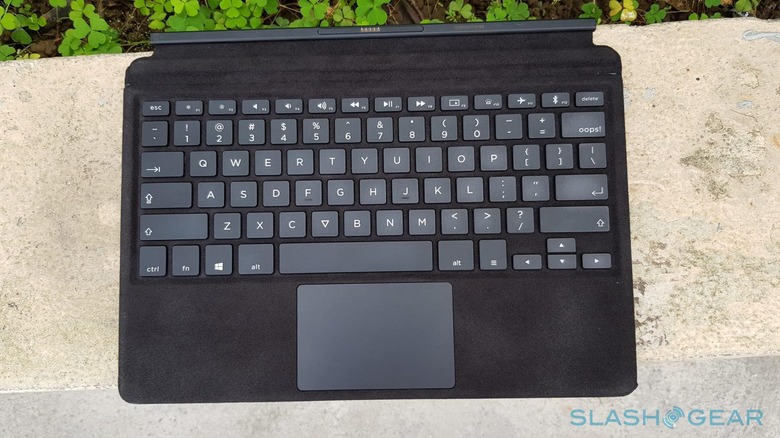 Unlike the Microsoft Surface Type Cover, the V's keyboard is more rigid. It is also thicker. This has the advantage of not having any bounce or flex when typing on it. But that's actually just a side effect. The real reason the keyboard is stiff, thick, and heavy is that it has a small battery inside. When attached physically to the V via the usual pogo pins, the keyboard draws power and transmits data directly from and to the tablet. But here is its special talent: it doubles as a Bluetooth keyboard as well.
Pull the keyboard away from its magnetic connection and you can still keep on typing as if it were there. In fact, you can pair the keyboard with up to three Bluetooth devices, though not connected all at the same time, of course.Pairing the keyboard with the V can be cumbersome the first time around, but once that's set up, it's as easy as pressing Ctrl+F12 to turn the keyboard on or off when detached. Of course, it also means your connection will be at the mercy of anything that might interfere with Bluetooth radio.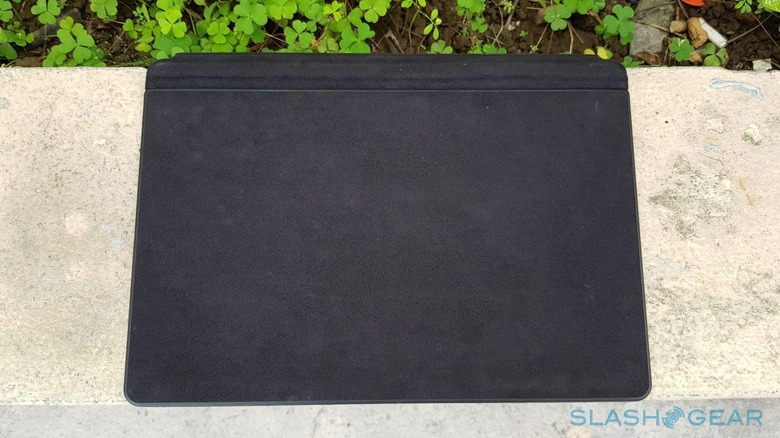 The keyboard has one last trick, perhaps meant to appeal to some gamers. Not only does it have LED backlight, it has seven backlight colors to choose from. Hit Fn+V to cycle through them.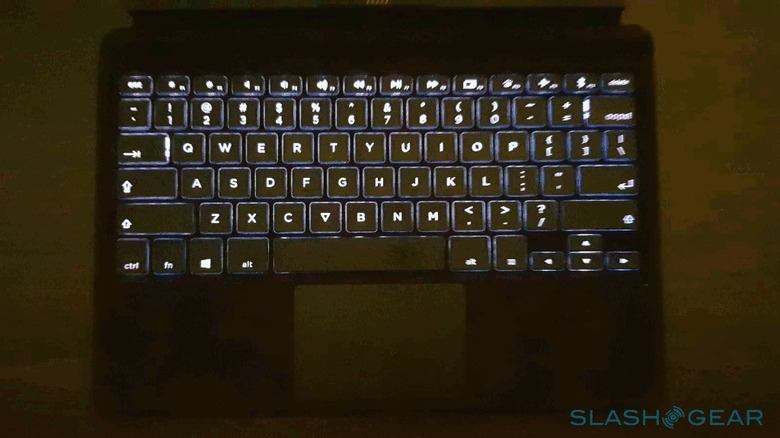 The V Pen
If the design and the display weren't enough to convince you that the V is gunning for the Surface Pro, then the V Pen might. Despite now being owned by Microsoft, N-Trig still licenses its digitizer technology to other companies, and Eve-Tech happens to be one. In fact, you can even use the Surface Pro pen on the V, and vice versa. So while you won't be getting more expensive Wacom technology, you are at least getting a known and market-proven solution.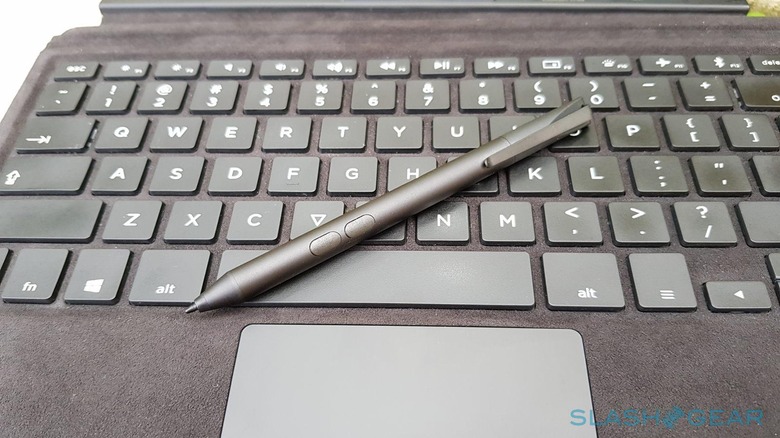 The V Pen is pretty much similar to the Surface Pro 4 Surface Pen in that it only goes up to 1,024 levels of pressure. Compared to the New Surface Pro 5 and its 4,096 levels, or Wacom's insane 8,192, that might look terribly dismal. Some artists, however, will admit that they couldn't really "feel" the additional levels beyond 1,024.
Like the Surface Pen, the V Pen comes with a replaceable plastic nib that smoothly slides over glass, whether you like it or not. There are two side buttons, the top one mapped to the right mouse button by default and no way to remap it or even assign something to the other button. Unlike the Surface Pen, there is no button at the top, so launching the Windows 10 Ink Workspace will be a manual affair.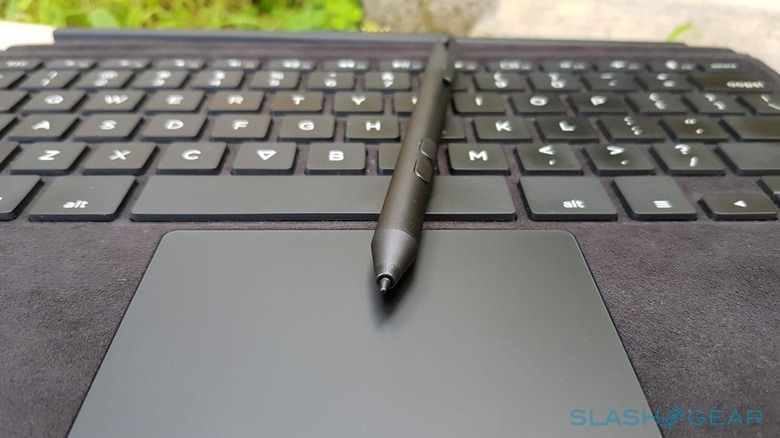 The pen works as you would expect, especially for one with a plastic nib. In other words, glides effortlessly on the glass screen. Unfortunately, that's not always a good thing for some artists who prefer some resistance to mimic the feel of pen on paper. A matte screen protector could solve that at the expense of a bit of display quality. Sadly, there doesn't seem to be any rubber-tipped nibs, though, in theory, the Surface Pro 4 pen and its assorted tips could work. The V does have a bit of a parallax problem, where the cursor lags behind the tip of the pen when moving. To be fair, many tablets of this kind exhibit that as well. There's also a bit of a jitter/wobble when trying to draw straight lines slowly, even with the guidance of a ruler.
Graphics artists will probably love the fact that the keyboard can also be used wirelessly. This means they can use the V as a display tablet and draw directly on the screen while still having all their keyboard shortcuts within reach. Usually they'd have to resort to bringing along a mini Bluetooth keyboard or some remote with buttons and dials.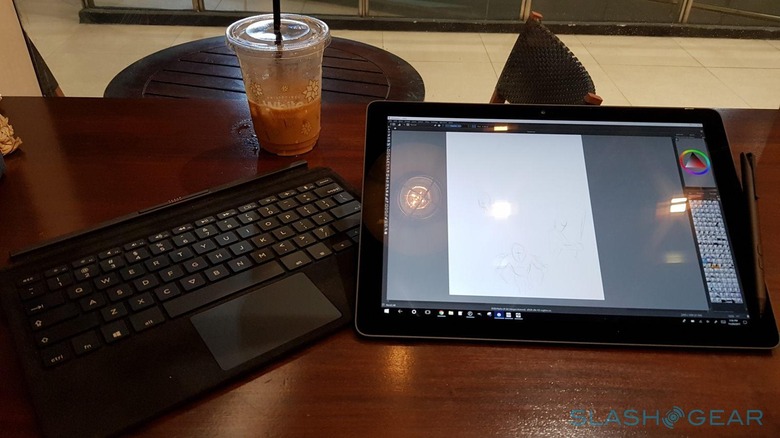 Added Value
Remember the problem of the GPU being the performance bottleneck? Remember the Thunderbolt 3 port? Taken together, those two make the V a rare beast. Thunderbolt 3 has made things like external graphics cards, graphics accelerators, eGPUs, possible for laptops and even some pico PCs. It is, however, rare to see one in 2-in-1 tablets, mostly because it's also rare to see Thunderbolt 3 in such tablets. The Eve V isn't the first or only one, mind. There's the ASUS Transformer 3 Pro, among others. But the Eve V is definitely the only offers the capability in an almost perfect and more affordable package.
So the idea is that, should you need graphics muscle more than what the internal integrated GPU can offer, which isn't a lot, you can simply plug in an external graphics card to get that extra "oomph!" Now, the technology is still a bit new and sometimes fickle, but Eve-Tech recommends either a Razer Core ar an AKiTiO Node enclosure with an NVIDIA GTX 1050 or 1060 card. It's no panacea, of course, as you will still be limited by the "Y" CPU for tasks that require both CPU and GPU together. We will definitely post a follow-up when we get our hands on one.
Eve-Tech prides itself on how it has made the device that tech lovers want, and what tech lovers don't want is extra software they never asked for. Yes, the Eve V doesn't come with any bloatware at all, save perhaps for the ICC color profile manager. Even more than that, the V offers an unlocked BIOS so that you can do almost anything you want. Even run another operating system. I haven't had the chance to dual boot Linux yet, but, KDE Neon running off a USB stick works perfectly from Wi-Fi to touch screen to even pen pressure sensitivity.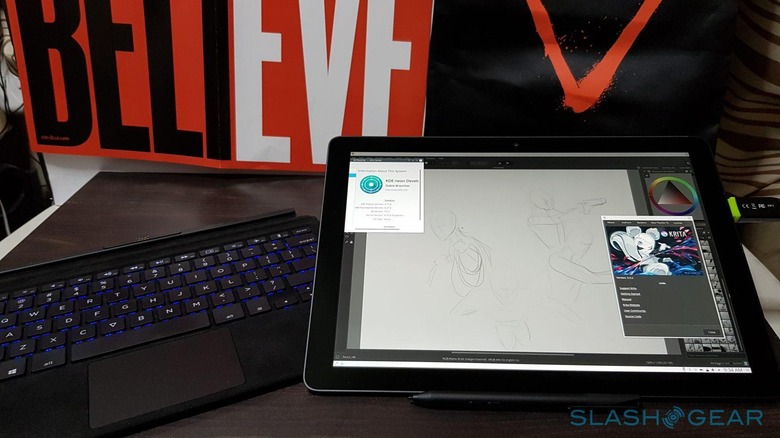 Pricing
Sounds almost perfect, so what's the catch? There's always a catch, and usually that's the price. Let's face it, the Eve V isn't exactly cheap. But considering what you're getting, it's still quite a steal. Here's the quick rundown of the available configurations and their respective prices:
• Core m3-7Y30, 8 GB RAM, 128 GB PCIe SSD – $799
• Core i5-7Y54, 8 GB RAM, 256 GB PCIe SSD – $1,199
• Core i5-7Y54, 16 GB RAM, 512 GB PCIe SSD – $1,499
• Core i7-7Y75, 16 GB RAM, 512 GB PCIe SSD – $1,599
• Core i7-7Y75, 16 GB RAM, 1 TB PCIe SSD – $1,999
It should be noted that these prices already include both the keyboard and the V Pen, accessories that easily add up to another $300 from the competition. Considering all models are fanless and that even the Core i7 doesn't get too hot, the lower Core i5 model might be a better deal if you're really strapped for cash. Otherwise, go all out on an i7 to make up for the "Y" limit.
The closest rival to the Eve V in terms of bang for buck would probably be the ASUS Transformer 3 Pro, which also has a Thunderbolt 3 port and uses a Core "U" series. It's battery, however, is rated lower and lasts shorter and there have been complaints of fan noise.
Eve-Tech really wants to compare the V with the New Surface Pro 2017, at least the Core i7 model with 512 GB of storage. Of course, between the two, the V is almost half the price of Microsoft's latest. But let's be fair. The V is more on the same level as the Surface Pro 4 in terms of core hardware and also closer in price. Of course, the Surface Pro 4 is no longer officially on sale, so that does make it a bit moot. Plus, Microsoft doesn't bundle the not so extra accessories that make the Surface Pro really stand out.
Wrap-up: A fairy tale ending
In the consumer electronics market, especially when it comes to computers and mobile devices, choices are often made based on compromises, often ending up with a tinge of disappointment or buyer's regret. Part of the reason why is because there is no device out there truly has everything you'd want, simply because no company really asks everyone what they want.
The Eve V isn't perfect in that regard, of course, but it nearly got there. For business and mental health reasons, more established companies, as a rule, dare not even poll their users about features they want. They rely on random and limited surveys, market studies from outsourced companies, and other indirect methods. That's why when Eve-Tech went the direct route, it was expected to fail. When Eve-Tech went to get money from its believers, it was expected to be unable to deliver. But like the underdog hero in fairy tales, the Eve V proved its character and transformed into royalty. And it all started with one simple question: What do you really want?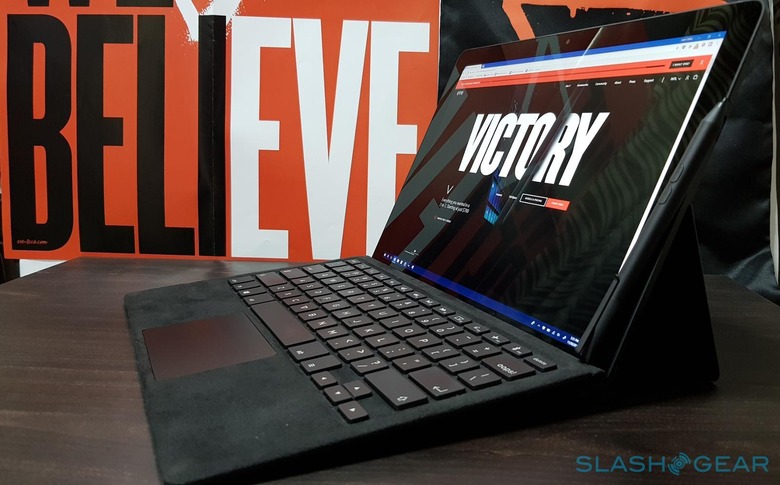 Eve-Tech is holding a flash sale for the V computer on 4th December, starting at 9 AM ET /6 AM PT. There is no word on how many units will be on sale, so better sign up if you want one.