European geeks can now get Toshiba FOLIO 100 Android tablet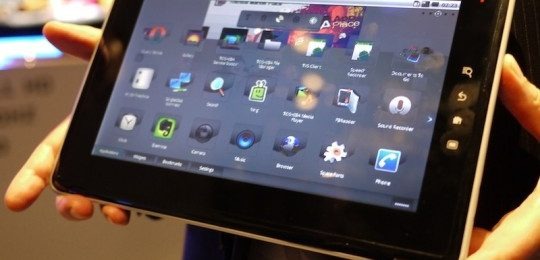 It's still a bit sad that the Toshiba FOLIO 100 won't be coming to the US, but if you are Europe that isn't your problem. Toshiba has announced that the FOLIO 100 is now ready for shipping in Europe. The tablet will get a plug-in sometime this month that will allow it to platy Flash 10.1 video and content.
We went hands on with the tablet back in September and while the pre-production device we played with was sluggish, we expect the finished version to not suffer from that issue. In case you forgot the tablet has a 10.1-inch screen that supports four points of touch. It supports the Android Marketplace naturally and apps specifically optimized for the FOLIO 100 will hit the Android Marketplace as soon as they are finished.
The tablet runs Android 2.2 and rumors are pointing to an update to Android 3.0 next year when the new OS is launched. The tablet has USB, HDMI out, an SD card slot and 16GB of internal storage. The battery is good for up to seven hours per charge.