European Commission investigating Microsoft's browser option commitment [UPDATE: Microsoft responds]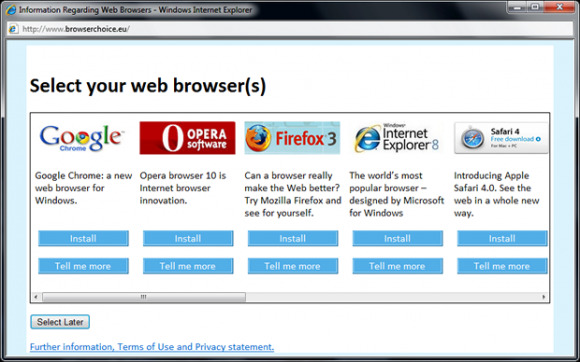 The European Commission probed Microsoft back in 2009 over Internet Explorer's massive market share, concerned that it was stifling competition thanks to the browser being installed by default on Windows PCs. Microsoft suggested an option screen that would give customers an option between five different browsers, but it turns out that Microsoft may not have implemented the solution for millions of Europeans.The Next Web reports that the Commission has opened a new investigation into whether Microsoft presented the browser option screen. Microsoft reportedly did not offer the screen when it issued the Windows 7 Service Pack 1 update at the beginning of 2011, and the Commission isn't happy as a result: "We take compliance with our decisions very seriously. And I trusted the company's reports were accurate. But it seems that was not the case, so we have immediately taken action. If following our investigation, the infringement is confirmed, Microsoft should expect sanctions."
Microsoft could face fines up to 10% of its annual turnover, with the European Commission "treat[ing] the case as a matter of priority." If Microsoft has fallen foul of the ruling and the Commission uses Microsoft's annual revenue, the Windows maker could see a hefty $7 billion fine.
UPDATE: Microsoft has responded to the issue, saying that a "technical error" prevented the browser screen from being prevented in Windows 7 Service Pack 1. A spokesperson for Microsoft says that the bug will be fixed immediately, and that new software is being sent out with the correct browser screen option. In an attempt to appease the European Commission, the company has said that it will extend its browser option compliance by 15 months.