ETYMOTIC ETY Kids Safe-Listening Headphones and Earbuds Hands-On [Video]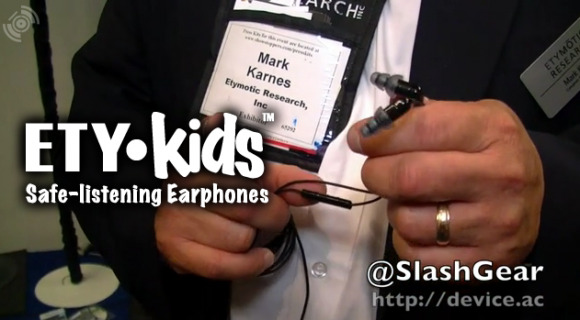 This week at IFA 2011 we've come in contact with a group by the name of ETYMOTIC, a group whose main function it is to create high fidelity in-ear products, here letting us know about their newest project, ETY•Kids. What Mark Karnes, Managing Director, Consumer Products Division of ETYMOTIC explains to us here at IFA 2011 that ETYMOTIC Research has been working with kids throughout their entire career as a company, being one of the leading makers of hearing screening equipment, concerning themselves with the hearing care of children for many years now. What ETYMOTIC is seeing now, according to Karnes, are surprising and alarming statistics which point toward masses of kids graduating high school with real signs of hearing deterioration. ETYMOTIC aims here in their new ETY•Kids project to turn the tide back to healthy ears across the earth.
One of the more interesting points Karnes lets us know is that the point at which deterioration of hearing in this high school age started in a real way to deteriorate was right around 2004. It's no coincidence that this is the same year that the iPod was first released. Karnes goes on to note that because of the now-norm activities of digital music players, laptop video watching, video chatting, and the list goes on, the close monitoring of safety standards in earphones and earbuds should be much more of a priority than it is today – one thing Karnes notes that's again alarming is that this unmonitored audio listening at unmonitored loudness exceed all too often the safety standards for even industrial sound levels.
To solve this problem, or at least take a swing at it, is a set of earbuds make specifically for children (though adults can wear them too,) which limit the volume output blasted through the speakers.
[VMS c7fb794c1011d63be6fb]
What this means is that no matter which device you're plugging your earbuds into, you'll be listening to the audio as the same listening level. This set of buds is an electrical device which does not affect the frequency response of any products that are currently on the market, still having a what Karnes describes as a great dynamic range, and superior noise isolating. There's a triple flange, four different ear tips being available for a large range of ear sizes – AND if you want your whole ear filled, noise isolation means you'll want to perhaps turn your volume DOWN because "you're not competing with the outside world."
No batteries are required, this component device again working with any device with audio output on the market today, and they'll be shipping to US, UK, and Euro retailers on the 20th of October, 2011. Dixons, Amazon.com, HMB, are amongst the places you can get them at launch and they'll be right around $49 USD right out of the gate. That price is for the Earphone-only ETY•Kids5, then there's the ETY•Kids3 Headset + Earphones set for $79 with 3-button Apple control.
Sound nice to you? The ETY•Kids project is currently housed at http://www.etymotic.com/ephp/etykids.html