Etsy.com listing shows a $3,500 NES controller coffee table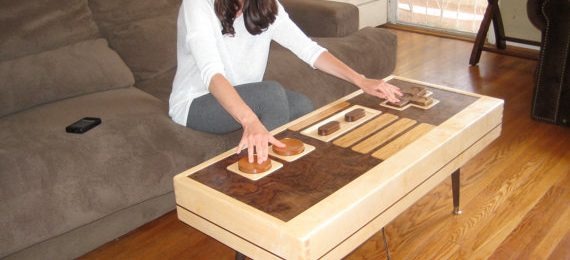 When it comes to really cool homemade furniture, this pretty much fits the bill better than anything else. Someone has managed to make a full-size coffee table that looks just like an authentic old-school NES controller. But it's not just the looks that are authentic. This 42" long masterpiece is actually fully wired to function as a real controller for the vintage system.
It comes with a cable that plugs into an NES, and if you're willing to play with your arms stretched out across a table, you can run through Super Mario Bros or any other game that tickles your fancy. For the times when you're not in a gaming mood, there is glass on top that allows you to put stuff on the table without messing up the actual controller detail.
The table's creator wrote the following description: "This table fully functions as a Nintendo NES controller and can be used to play games with the glass removed. The cord is retractable from underneath." It is made from maple, mahogany, and walnut with "dovetail joinery and mid century modern legs." Apparently a version is in production that will also be compatible with the Wii.
[via Etsy]