Essential PH-2 could have in-screen camera, rear fingerprint scanner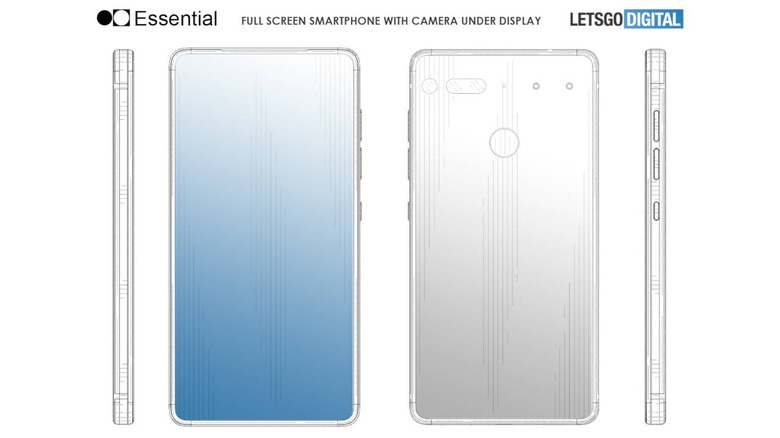 Andy Rubin's Essential almost has an HTC and LG problem. Its first and so far only phone, the Essential PH-1, was easily a crowd favorite, especially thanks to its quick and regular software updates. Despite that, the phone's disappointing sales have caused the startup to almost give up on smartphones. Almost. Rumors about an Essential PH-2 abound and it could bring the world's first true in-display camera. Curiously, it might also take on step backward as well.
Although Apple was the first to have come out with the notch design, Essential actually beat everyone to the punch. And it wasn't just a regular wide notch. It used a "waterdrop" notch years before that minimal cutout even had a proper name. Based on rumors and, now, a patent noticed by LetsGoDigital, Essential might be blazing the trail again in banishing bezels.
Illustrations attached to Essential's new patent reveals a smartphone whose face is almost all screen. No notch, not even an Infinity-O style cutout. The only feasible explanation, aside from having no front camera or sensors at all, is that it will hide those all under the screen without the need to cut holes.
Almost ironically, Essential will seemingly skip the trend that puts the fingerprint sensor underneath the display. Instead, the patent shows a back that it exactly like the Essential PH-1's back. It could be a big disappointment if that were the case.
Of course, all of these presume that Essential is going back to making a smartphone. There may be whispers here and there but nothing has so far materialized. It could just be wishful thinking but it would definitely be a waste if Essential had the ability to make this in-display camera but didn't.