ESPN's new Apple TV app offers livestreaming auto-play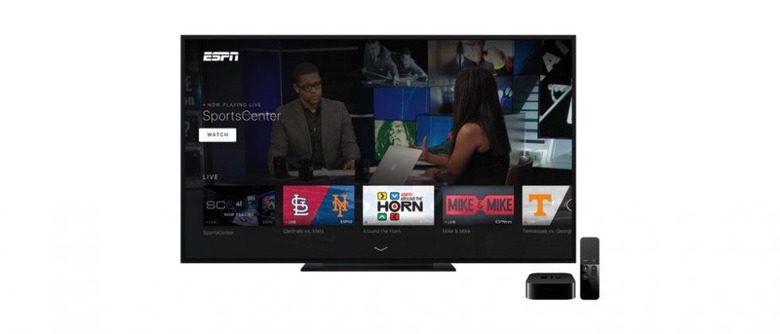 ESPN has announced the arrival of a redesigned Apple TV app, a version that includes a better and simpler user interface, among other things. The new WatchESPN app is now simply called the ESPN App, and it includes livestreaming auto-play for users who have already authenticated the service, as well as a new curated collection of ESPN VOD (video on-demand) content said to include hundreds of hours of footage.
Once a user authenticates the ESPN App, which means signing into a related supported for-pay account, the app will automatically launch an ESPN live stream when the app is accessed, taking viewers directly to the entertainment. This is akin to how normal television works, wherein someone turns on the TV and a channel automatically starts playing.
The app also gives users easier access to on-demand content including things like Outside the Lines, SC Featured, World Series of Poker, and more. All the while, the new interface makes it easier to browse content by Sports & Events or based on the channel it would normally air on. There's also featured content and 'visual graphic enhancements.'
The on-demand content includes replays of games, but also full episodes of shows in some cases, and in some cases it is available before the telecast premieres air. To coincide with the new Apple TV app, ESPN has also premiered its new 8-episode We the Fans original series that follows Chicago Bears fans. ESPN App authenticated users will get exclusive access to the first four episodes before they air.
SOURCE: ESPN