ESPN mobile app gets 'Watch' tab and better personalization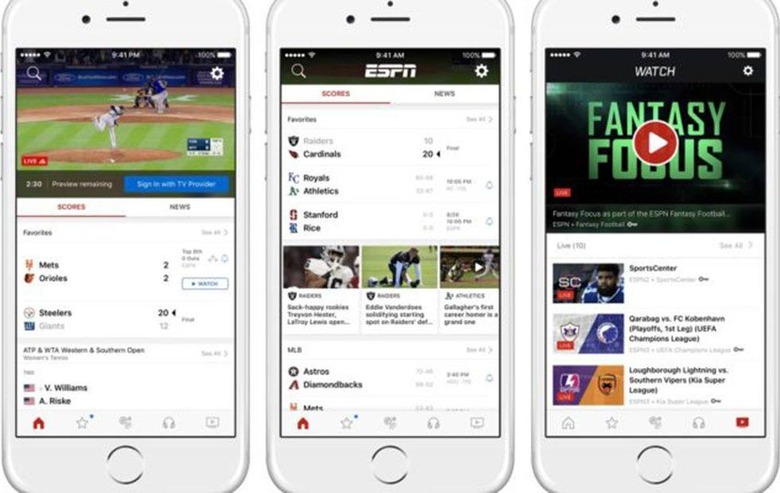 ESPN has released an update for its iOS and Android mobile app that brings a new 'Watch' tab for livestreaming events. The update ultimately improves discoverability and personalization within the app, making it easier for users to find and watch what they like best. The app is now sitting at version 5.10, and it likewise sports a greater number of on-demand content, namely ESPN3 replays.
ESPN announced the new update earlier today, saying that the big change here is the improvement in both discoverability and personalization. The home screen, once users update, now presents videos and stories that are tailored to the user's favorite teams. This itself builds upon the personalized live streams that arrived on users' home screens in the 5.9 update.
In addition to the personalization tweaks, the new app is increasing discoverability by giving non-authenticated users access to a 10-minute livestream preview, as well as info on upcoming schedules and top live content recommendations. Finally, the app has increased the amount of on-demand content users have access to via the addition of replays from ESPN3; these join the long-form videos and game highlights.
Talking about this, ESPN's SVP of Product & Digital Media Ryan Spoon said:
Today's ESPN App update is a continued step forward for our video experience. Over the last few months, personalized and live video has made its way to the App's home screen – and billions of videos have been viewed. Today, video gets its own home with a new 'Watch' tab. It's a curated experience that showcases live video, replays, video clips, and content collections. Considering the vast collection of games, shows and clips, it's an example of something only ESPN can do.
SOURCE: ESPN Media Zone