eQuil, the paper to digital reader, lets us go hands-on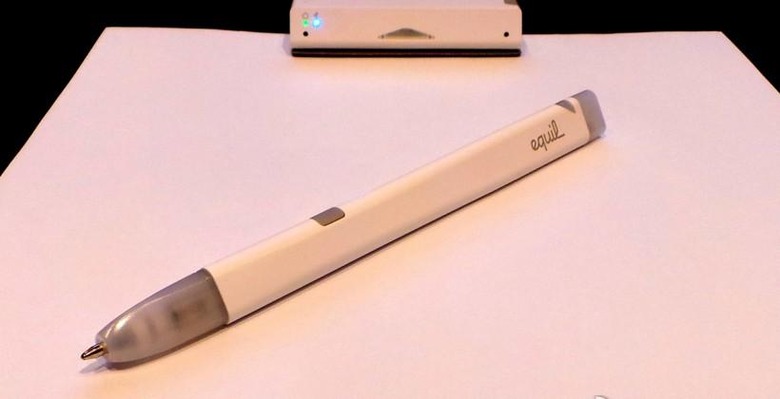 Sometimes, you just want to take a note and have it magically appear in your online journal. With eQuil, you can. The hardware, which works with a responsive app, records your input and copies it to your iOS device. We got a look at eQuil here at Showstoppers, and what we saw was subtly impressive.
The hardware is currently available in Apple stores and via the eQuil site, so it's easy to get hold of straight away if you're interested. For those times when you want award copy and a digital one, this can be helpful. The eQuil has a reader which sits at the top of a page of text. From there, a connection with the pen is established (with a simple push of a button). After that, it's as simple as scribbling down what you need to. It doesn't try to transcribe, only reads what you put in via the pen movement.
That alleviates the mistakes that can happen when a system second guesses your handwriting, which happens enough times to cause a lot of headaches. In our experience with eQuil, the system was responsive and placed text to screen shortly after we committed it to paper. The caveat is that the pen and reader must stay in contact with one another. If you're left handed, or otherwise have a writing style that puts your hand between the two pieces of hardware, it fails to record what you write.
For most people, eQuil will probably work just fine. We had a lot of success with it, and we like the ease of use. For those times you want a handwritten note in two disparate places, this is a great option. We'll be here at Showstoppers at CES 2014 all night, so be sure to check back for more content all night.