Epson Unveils Two Entry Level D7 LCD Panels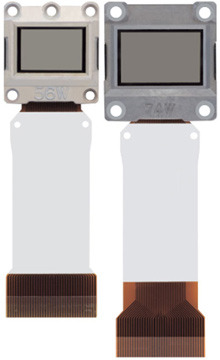 Following their huge success on D7 1080p announcement in August last year, Seiko Epson Corporation unveils two more D7 LCD panels at entry level resolution of 1280x800 to start in production level at mass scale. The L3D05X series 8-type 0.56 and 0.74 type L3D07X-8 series are both high-temperature polysilicon TFT LCD panel that capable to produce high lumens count of 2000-3000 lumens.
The market may have swamped with numerous affordable full 1080p projectors, most of them are equipped with Epson made panels, but Epson did not overlook the entry class. They brought the new D7 panels on board with wide screen option, made demand for current and future line of projecting source from notebook users. The business class is slowly being replaced by wide screen format, having a wide screen native panel has huge advantage of targeting the projector market with both business and home theater crowds. Nice move, Seiko.
[via impress]