Epson Powerlite Pro Cinema 6030UB and Home Cinema 5030UB/UBe support 2-D and 3-D content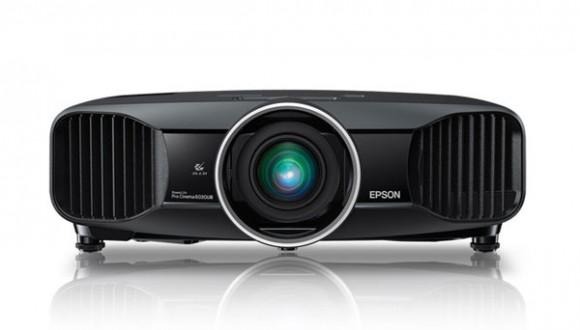 Epson has unveiled several new projectors aimed at home theater users. The new projectors include the PowerLite Pro Cinema 6030UB, Pro Cinema 4030, and Home Cinema 5030UB/UBe. The Pro Cinema projectors are sold through custom installers while the Home Cinema will be sold through traditional channels. All the projectors offer 2400 lm of color and white brightness.
Both the Pro Cinema 6030UB and the Home Cinema 5030 projector models support contrast ratios of up to 600,000:1. These projectors also use the Epson Super Resolution technology and FineFrame providing smoother frame interpolation and sharper video in 2-D mode. The 5030UBe differs from the standard UB version by including a wireless HD receiver with an external transmitter supporting up to five HDMI inputs without needing wires.
The 6030UB also features two different anamorphic lens modes enabling 2.35:1 anamorphic viewing without an external processor. The projectors use active shutter 3-D technology and ship with two pairs of 3-D glasses.
The Pro Cinema 4030 supports 3-D and 2-D images in full HD resolution. It offers 2000 lm of color and white brightness and contrast ratio of 120,000:1. It ships with two pairs of 3-D glasses and an extra bowl along with a ceiling mount and cable cover. All of the projectors use Epson 3LCD technology. The two Pro Cinema projectors will be available in late October with the 6030UB selling for $3499 and the 4030 selling for $2499. The 5030UB will sell for $2599 with the 5030UBe selling for $2899 and both will launch in mid October.
Epson has also unveiled three other incredibly bright projectors including the PowerLite Pro Cinema G6900WU offering 6000 lm of color and white brightness. The G6550WU offers 5200 lm of color and white brightness, and the 4855WU offers 4000 lm of color and white brightness. Those projectors are all 2-D and use 3LCD technology. The G6900WU will sell for $7499, the G550WU will sell for $5999, and the 4855WU will sell for $3799. All three of those projectors are available now through specialty dealers.
SOURCE: Epson